Studio A.C.T.—American Conservatory Theater's evening and weekend training program for adults—is gearing up for its fall session with the application deadline fast approaching on August 31, 2010. At A.C.T.'s award-winning conservatory, students can explore their creativity in ways they never thought possible at one of the best acting schools in the country.
Studio A.C.T. offers exciting, rewarding classes for all levels—from acting, audition technique, voice, and improvisation to dialect and movement workshops—all taught by some of the finest theater artists in the industry.
The 2010–11 course schedule also includes such special offerings as a five-week movement intensive, a musical theater master class (focusing on the work of Rodgers, Hart, and Hammerstein), a newly created Shakespeare soliloquies class, and a Molière acting class (just in time for Scapin, which kicks off the 2010–11 A.C.T. mainstage season on September 16).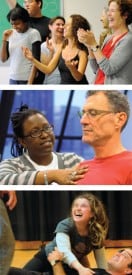 Students also get access to A.C.T.'s extensive on-site script and theater reference library, and small class sizes guarantee personal attention from instructors.
Classes, which take place in A.C.T.'s spacious and modern studios at 30 Grant Avenue, San Francisco, run September 7–November 20, 2010.
Studio A.C.T. offers a special discount of up to $150 for its fall session: when students sign up for two courses, they save one-third off their third class. (Offer valid for three-hour courses only; discount applies to the least-expensive class.)