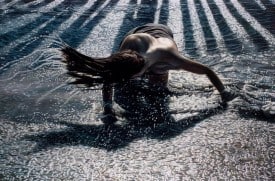 Electric Works of San Francisco today announced the dates and details for two upcoming exhibitions, Ablution and Left to Swoon. In Ana Teresa Fernandez' exhibition Ablution, water's ability to reflect and distort plays a central role. Fernandez' large-scale photo-realist paintings are based on performances by the artist. By embracing a strong love of metaphor and a dose of magical realism, these paintings defy easy categorization of being simply one thing. Those familiar with Fernandez' work will see a further questioning of modern society in this latest body of work. Questions of gender roles, divisions of labor and class are all posed in an arena of masterful painting that is unique to Fernandez' work. In an ever expanding definition of Ablution, Fernandez looks at literal, corporeal and spiritual facets of a word that has had great meaning in almost every culture.
Ana Teresa Fernandez was born and raised in Tampico, Mexico. She received her MFA in 2006 from the San Francisco Art Institute. Her work will be presented in an upcoming solo show at Electric Works, as well as in the Tijuana Biennial, and the Oakland Museum. She recently was invited to be a resident at the Greatmore Art Center in South Africa. Fernandez was the Tournasol Awardee at the Headlands Center for the Arts, as well as being selected to be part of the Triennial, Bay Area Now 5, at Yerba Buena Center for the Arts in San Francisco. She has also completed residencies in Jakmel, Haiti, at the Fondation D'Art Jakmel, and in Juarez, Mexico through the LEF Foundation. She was the recipient for the Creative Work Fund 2009, and the Neighborhood Public Art Grant Project through the Richmond Art Center as well as the Cultural Equity Grant through the San Francisco Arts Commission. She was also chosen for the National Association Latino Art and Culture Award. In the past, Fernandez' work has also been exhibited in galleries and museums in San Francisco, Los Angeles, Chicago and New York nationally as well as in Haiti, Costa Rica, South Africa and Mexico internationally.
In Left to Swoon, Elaine Buckholtz explores the interface between light, architecture, and painting in her collaborative installation with Ana Teresa Fernandez. Her fascination with light has a long history and in her first installation at Electric Works she will explore light as an ephemeral phenomenon and intervention to unmask hidden aspects of architectural forms in relation to painting. Left To Swoon will explore the collision between space, image, movement, and light. What can happen when a painting is put into motion in reflective surfaces that quietly distort image, translating it back into an abstraction of moving light and activating it through a time based medium. Creating quiet light spectacles that activate the negative spaces and interfaces in architectural sites is at the center of what motivates Buckholtz's current body of work.
Audio artist, Floor Vahn, in collabortation with Buckholtz, will add an sound element to the installation, Left to Swoon. Vahn's sound installations traverse new media, and engage with composition, gesture to sound/image mappings, synthesis techniques, and collaborative improvisation. Her deep interest in music technology and digital art has led to experiments with electronic, classical, non-western music, sound collage and a general investigation into how digital precision and acoustic warmth can complement each other.
Elaine Buckholtz attended The California College Of The Arts on a Jacob K. Javits Fellowship from 2002-2004 and received her MFA from Stanford University in 2006. She currently teaches at Mass Art in the Studio For Interrelated Media program in Boston, Massachusetts. Her work has been exhibited at Triple Base Gallery, Yerba Buena Center For the Arts, San Francisco Arts Commission, The Claremont Museum in Southern California, Pierogi Leipzig, Leipzig Germany, The Luggage Store and California College of The Arts in San Francisco, Stanford University, The Wexner Center For The Arts, and Sun Valley Center For The Arts. She has worked as a Lighting and Visual Designer in the Bay Area for 20 years and has also worked with Merce Cunningham and Meredith Monk creating and recreating their visual environments internationally.
Belgian born, South African raised artist Floor Vahn lives and works in San Francisco and began her musical training at the age of five, studying violin and viola in South Africa. She attended the Kunsthumaniora in Belgium, and studied electro-acoustic music at Brooklyn College, New York.