After a four-year hiatus, Montalvo Arts Center (Saratoga) is reprising its annual summer concerts on the Great Lawn of the historic Saratoga villa. Tickets are on sale now for Strauss to Sondheim, a special twilight concert and picnic on Sunday, August 22, at 5 p.m. The program will feature Symphony Silicon Valley, under the baton of Maestro George Cleve, with vocals by Broadway star Lisa Vroman.
"We are delighted to bring back our highly popular Great Lawn series," said Montalvo's executive director, Angela McConnell. "And we're especially pleased to be partnering with the Symphony for this year's concert as we renew our commitment to this summertime tradition. It's exciting to see such a positive response from the community and our members for this opportunity to enjoy a summer evening listening to this outstanding orchestra."
Symphony President Andrew Bales shared McConnell's enthusiasm: "It's a pleasure to be a part of this revitalization of Montalvo's Great Lawn concert programming. Nothing could be finer than bringing together our fabulous local musicians, a treasured conductor, and a brilliant Broadway performer to one of the most beautiful places in the South Bay."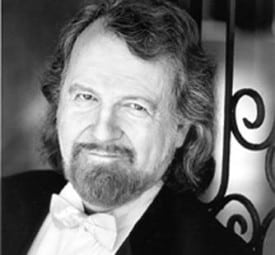 Reflecting the Austrian heritage of conductor George Wolfgang Cleve, the two-act concert will mingle the waltzes of Strauss, Sondheim, and others with the music of Gershwin and show tunes written with a Viennese dance tempo in mind. Act I is all Strauss: the overture from Die Fledermaus, Roses of the South waltz, Perpetuum Mobile, a classic pair of songs from Die Fledermaus sung by Lisa Vroman (Adele's Laughing Song and Rosalinda's Czardas), and the famous On the Beautiful Blue Danube waltz. Act II begins and ends with Strauss (Emperor Waltz and Radetzky "Strauss to Sondheim" Great Lawn Concert March). In between are Tchaikovsky's waltz from Sleeping Beauty and a set by Vroman that includes Gershwin's "By Strauss," "I Feel Pretty" from Bernstein's West Side Story, and Sondheim's "Send in the Clowns."
Born in Vienna, Cleve has been acclaimed internationally for his masterful interpretations of the music of Mozart. He has served as guest conductor for most of the major orchestras across the United States, as well as throughout Europe and in South America, Asia, and Australia. In addition, he is music director of San Francisco's Midsummer Mozart Festival, which he founded in 1974 and for which he has received the Gold Medal of Honor of the Republic of Austria and the Silver Medal of the City of Vienna.
American lyric soprano and stage actress Lisa Vroman made her debut on Broadway in 1990 in the Andrew Lloyd Webber musical Aspects of Love, yet she is most well known for playing the role of Christine in The Phantom of the Opera for two years in New York and five years in San Francisco. She also appeared in a concert version of Sweeney Todd (as Johanna) in San Francisco. A frequent guest soloist with orchestras, she recently made her debut with the New York Festival of Song and the New York City Opera, in the latter starring as Rosabella in The Most Happy Fella. She also has sung the role of Mabel in The Pirates of Penzance at Utah Opera and starred as Lili Vanessi/Kate in Glimmerglass Opera's production of Kiss Me Kate.
"Strauss to Sondheim" Great Lawn Concert

Villa and Lawn at the Montalvo Arts Center

When: Sunday, August 22, 2010; 5 p.m.

Where: The Great Lawn at Montalvo Arts Center, 15400 Montalvo Rd., Saratoga, CA 95071

Tickets: Reserved seating, $69.50 (lawn chairs provided, 400 seats); unreserved seating, $49.50 (bring your own lawn chair or blanket). Tickets available at montalvoarts, ticketmaster, or by calling the Montalvo Box Office, 408-961-5858, Monday-Friday, 10 a.m. – 4 p.m. Limited on-site parking, $25; free shuttles from West Valley College.

A choice of box dinners ($20) is available to order in advance or to purchase at the event. For bring-your-own picnics, only small backpack-sized coolers are allowed on shuttles; if onsite parking is purchased containers can be any size. No alcoholic beverages or glass containers of any kind are allowed.