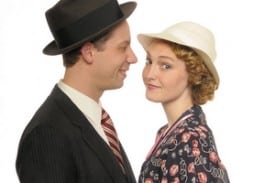 Center REPertory Company presents She Loves Me, from September 3 through October 10, 2010. Directed and Choreographed by Robert Barry Fleming and with Musical Direction by Brandon Adams, She Loves Me is the first production of Center REP's 44th subscription season.
It was 16 years ago that Robert Barry Fleming fell in love with She Loves Me. But he didn't realize how many others would fall for the intimate musical, revived across the country since its brief original run on Broadway. Hollywood has had more success with the original story from the 1930s about a bickering couple who fall in love as anonymous pen pals. The screen versions are The Shop Around the Corner in 1940, the musical In the Good Old Summertime in 1949, and the digital-age, You've Got Mail in 1998.
She Loves Me, with its score by Jerry Bock and Sheldon Harnick, was a revelation to Fleming, and he's overjoyed to direct and choreograph it for Center REPpertory Company. It runs September 3—October 10.
"I didn't know anything about it at the time, and it caught me completely unaware," says Fleming. "It was a charming, heartwarming evening in the theater that I had never experienced before—seeing a classic musical that was sweet but somehow not saccharine." Fleming, who is department chair of Theatre Arts at the University of San Diego, says the original Broadway production in 1963 may have caught audiences by surprise too. "It's really an intimate musical play, one of those things that sneaks up on you. It just didn't have the wham-bam Broadway impact."
After staging Ain't Misbehavin' and All Shook Up for Center REP, Fleming is in new territory, geographically and musically, with She Loves Me. For one thing, it's written more as a continual musical score. "Everything is so well-integrated to the narrative," Fleming says. "That's the reason to cast the best actors I could, actors who happen to sing incredibly well."
The Center REP cast includes Kelsey Venter as Amalia, the new clerk in the Budapest shop who is often at odds with the manager Georg, played by Ryan Drummond. As each describes the "Dear Friend" of their affectionate letters, the audiences realize the two are matched as pen pals before they do.
Bock and Harnick were writing She Loves Me at the same time as their next show, which became the colossal hit Fiddler on the Roof. But Fleming believes She Loves Me also has lasting value as a musical play. "It's not just escapist fare," he says. "Two people overcome their cynicism and begin to love. It's a look at the human condition on multiple levels, exploring it in musical form."
When She Loves Me opened on Broadway in January 1963, theater critics greeted it with admiration, and it helped make a star of Barbara Cook in the role of Amalia. For many years, Cook included her ravishing song "Ice Cream" in concert appearances. The show's spunky title tune is familiar to musical theater fans as well, but the integrated score didn't lend itself to a string of hits.
Facing such competition as Oliver and Hello, Dolly!, the original production closed after nine months. But a 1993 production at New York's Roundabout Theater—the one that enchanted Fleming—ran longer, 354 performances, and helped spur more revivals.
The original cast album, released on two vinyl LPs rather than the usual single record, became a collector's item. Then in 1987 it was reissued on a Polydor compact disc, to the joy of the creators and the cast.
Harnick, in his notes for the CD package, said, "I don't think anything in my entire career has given me more satisfaction than seeing the way in which, over the years, She Loves Me rose from the ranks of dormant musicals, achieved and then graduated from the status of 'cult' musical, and went on to win general audience acceptance and affection." The show's Broadway producer, Harold Prince, echoed Harnick's enthusiasm about the collaboration.
"Together, we made She Loves Me as lovely and totally romantic a musical as I've seen," Prince said. "It was, I'm afraid, too gentle for the brash musical taste of the day, but it has lasted. For that I am grateful—not surprised, grateful."
Center REP's artistic director, Michael Butler, has the same hopes for the Walnut Creek production—and audiences. "She Loves Me is a very grown-up romantic comedy," he says, "for thinking people."