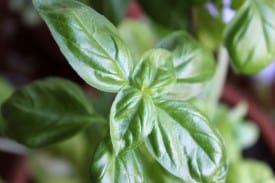 John Ash & Co. restaurant is celebrating Basil by featuring this diverse and highly fragrant herb in various cocktails and dishes, Monday, August 23 through Sunday, August 29, 2010. The Landscaping Department at John Ash & Co. and Vintners Inn has planted 26 different varieties of basil on the property, including Osmin, Siam Queen, Blue Spice, Finissimo Verde, Sweet Dani, Lemon, Boxwood, Greek, San Remo, Nufar, and Spicy Globe.
Chef Tom Schmidt has created "basil inspired" recipes all week long, using basil from the John Ash & Co./Vintners Inn gardens. Everything from cocktails and starters to entrees and desserts will feature basil in some way. Try delicious cocktails such as a Pear Basil Mojito with Myers Rum or a Basil Berry Cocktail made with Absolut Citron. Delectable dishes include Strawberries and Dry Creek Peach Salad with Torn Spicy Globe Basil and Ginger, Limestone Lettuce and Aged Balsamic; Chile Relleños Stuffed with Mammoth Basil-Wrapped Burrata Cheese and Deep Fried on a Basil Tomato Salsa; Basil Crusted Lamb Chops with Potato Gratin and Romano Beans; Pink Himalayan Sea Salt Topped Chocolate Tart with Strawberry Basil Sour Cream Gelato and Chocolate Sauce; and Maple Walnut Cake with Basil-Scented Peaches, Walnut Praline and Whipped Cream, to name a few.
In addition to cocktails, pair these entrees with a wine from John Ash & Co.'s Wine Spectator award-winning wine list. More than twenty Sonoma County wines are available by the glass, in addition to the specialty cocktail menu that utilizes fresh juices and infused spirits to create one-of-a-kind blends.
John Ash & Co is located at Vintners Inn, 4330 Barnes Road in Santa Rosa, just west of Highway 101 off the River Road exit. John Ash & Co. is open nightly for dinner at 5pm. The adjacent Front Room Bar and Lounge is open Monday through Thursday, from 4pm, Friday – Sunday, from 3pm. Please call (707) 527-7687 for more information, or visit the website at www.vintnersinn.com.