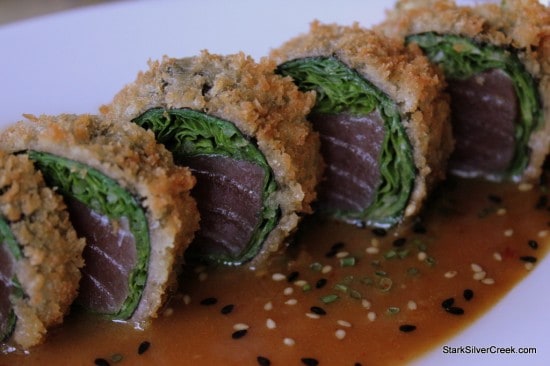 For a sushi lover, Hawaii is like sticking a gambling addict in a Las Vegas casino. With ocean all around, if I was a stronger swimmer, I probably would have jumped into the waters to catch some ahi between my teeth. Alas my physical reality cannot act upon the visceral nature of my fantasy.
Instead, I must do what all sushi lovers who visit the Hawaiian islands must do. Chase sushi at the many Japanese restaurants dotting the coast lines on each land mound.
It was the sound of the descriptions on the paper menu plastered in front of Sansei Seafood Restaurant & Sushi Bar at Waikoloa Beach Resort, Hawaii that had me salivating even before they opened for dinner.
I had no intention of having sushi that evening after the previous night of visiting two sushi restaurants to satiate my appetite not only for sushi, but divine sushi. Yet, the descriptions of the numerous creatively concocted rolls by chef D.K. caused me to have a change of heart and mind.
This is where I must note a disclaimer. When it comes to sushi, there are the purists who love their raw fish unadulterated with a tiny amount of soy sauce and a strong preference for freshly grated wasabi. Then there are those that love sushi rolled tightly bound with exotic ingredients, textures and sauces eager to burst into a fireworks of flavor in one's mouth.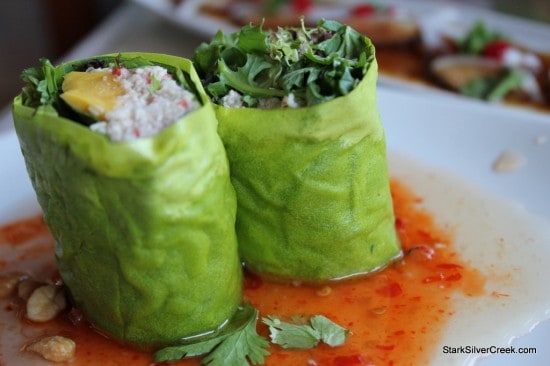 I am a sushi lush. As long as the fish is supremely fresh I enjoy both styles. This does not mean I am not picky. Hardly. If sushi is in a roll, then the chef that conceived it must have a good understanding of flavors, textures and more importantly balance. The other ingredients in a roll should enhance the enjoyment of the raw fish, not hide it. If it is a pure piece of sashimi then how is it sliced in relation to the grain of the fish flesh? If it is a pure piece of nigiri then what is the balance of fish to rice and how is the texture of the rice?
At Sansei, I recommend you focus on their rolls and nouveau sushi dishes. Do not dwell on the traditional sushi plates for two reasons. Firstly, it is not their specialty as it obvious from the amount of space the specialty rolls take up on the menu. Secondly, if you order at least one sushi roll off the menu, the flavors will dull your taste buds for the delicate characteristics of traditional nigiri and sashimi.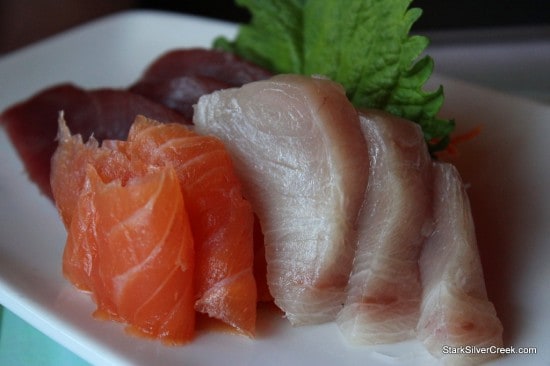 Of the rolls I tasted, my favorite is the Panko Crusted Ahi Sashimi Sushi Roll. It is absolutely sinful in the soy wasabi butter sauce. The Sansei's Mango Crab Salad Roll was refreshing, but nothing to write home to mom about. The Cajun Seared White Tuna Sashimi had wonderful textures and intense flavors. It was delicious, however, I felt the spices in the sauce were too overpowering.
One of the selections I really wanted to try but couldn't because they didn't have the raw fish in stock was the Torched Kona Kampachi which is described as, "Kona Kampachi Sashimi stuffed with sweet Maui Onion, Shiso and Tsukudani Yuzu Aioli, rolled and drizzled with Chili Pepper Tosazu". Sound delicious? I thought so.
Unfortunately the waiter explained that the local place they source the fish from is trying to get its credentials to export world-wide. In order to do this, the farm must cease operations as it goes through rigorous inspections and licensing requirements.
Perhaps it is a reason to return.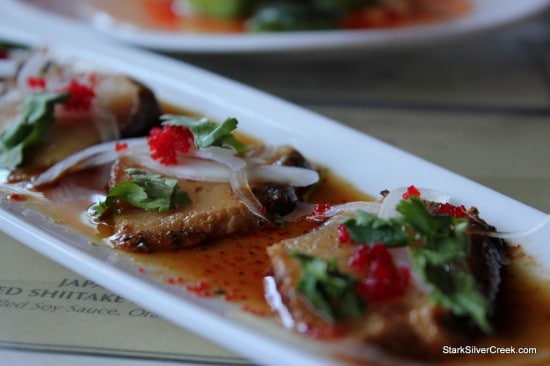 In a sushi tasting of this kind one thing that I didn't do which I wished I did is to sequence the plates of sushi from the most delicate of flavors to the boldest. I would have had the sashimi first, mango roll next, then the panko-crusted roll and finally the Cajun tuna last. Moving between each in parallel satisfied my need for variety but also desensitized my taste buds to the more delicate dishes.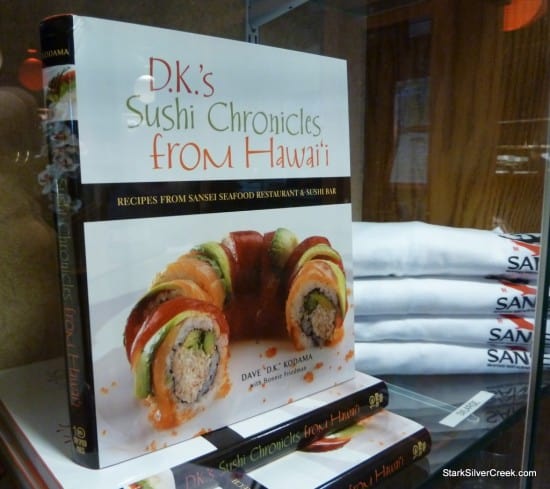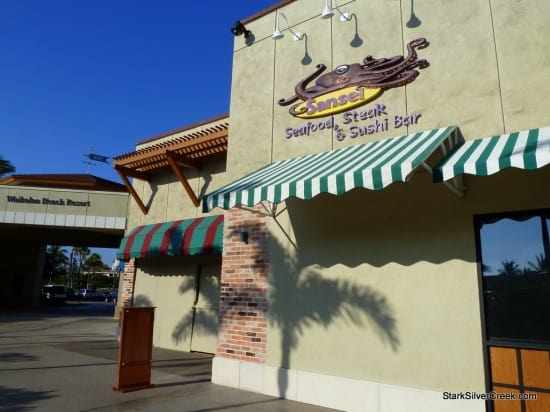 Sansei Seafood Restaurant & Sushi Bar
Queens Market Place, Waikoloa Beach Resort
201 Waikoloa Beach Drive, Suite 801
Waikoloa, HI
96738

Reservations: 1-808-886-6286