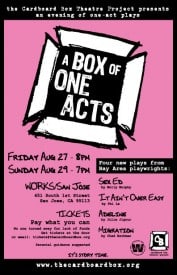 Cardboard Box Theatre Project announced it will present its fourth production, A Box of One Acts, on August 27 and 29 at WORKS/San Jose in downtown San Jose. Doors open half an hour before showtime (Show 8PM Friday; 7PM Sunday). Tickets are pay what you can.
Cardboard Box Theatre Project's A Box of One Acts presents four new one-act plays by Bay Area playwrights and features both new and returning actors and directors. The collection of works extends CBTP beyond its previous productions, as the works offer not only comedic moments but also serious contemplations of relationships, personal obstacles, and the desire to evolve or change.
Although each one-act play presents a very different world, all works feature common threads of transition and redefining relationships. (Parental guidance suggested due to language and content.)
Julie Jigour's Adeline provides a glimpse into the psychological ramifications of lost love as a mother and daughter struggle in different ways to battle their personal demons.
Chad Eschman's Migration introduces us to a restless young assistant who develops an unexpected friendship with an unusual, but remarkably astute young boy.
Molly Murphy's Sex Ed charts a realistic and contemporary vision of sex, relationships, and codes between brothers. Phi Le's It Ain't Over Easy offers a noir-style murder mystery with philosophical and feline undertones.
Cardboard Box Theatre Project is a South Bay theatre company, founded in 2009 by Santa Clara University alumni, dedicated to the presentation of new works and old works in new ways.