So much to see, so much to do! Or, as Bill Watterson, author of the comic strip Calvin & Hobbes, once said, "If life is just a stage, then we are all running around ad-libbing, with absolutely no clue what the plot is. Maybe that's why we don't know whether it's a comedy or tragedy."
If you live in the Bay Area, then your entertainment calendar doesn't stand a chance. Like I said, so much to see, so much to do! Whether you live in Oakland, Berkeley, San Francisco, Napa, San Jose, Palo Alto or just about anywhere in between, there is something happening right here, right now.
On the radar this week: the Circus comes to town, Foodies celebrate in San Francisco at marquee annual event, Jazz lovers unite across downtown San Jose, and the show is the thing in Berkeley.
Have I overlooked something here in this week's round-up? In the words of Cinequest co-founder Halfan Hussey, Hells-Bells, yes! It wouldn't be the first time, but at least we're trying to highlight some of the more interesting events that are worth your consideration. If I missed something that should be on here, or just make you cringe for whatever reason, shoot us a note, comment, Tweet, or smoke signal from your favorite industrial complex.
THIS WEEK & WEEKEND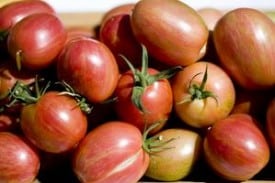 Taste Tomato Dinner at Macy's Cellar, Union Square – Join Taste Catering's Executive Chef Chris Borges for a delicious three course dinner featuring their newly unveiled "Taste" tomato, and highlighting the bounty of summer at the farmers market. This flavorfull nightshade is a combination of the Maglia Rosa and Zucchero varieties bred by Baia Nicchia Farm & Nursery and designed to meet size and taste qualities favored by Borges. Limited tickets still available $50.

SF Chefs 2010 – San Francisco's premiere food, wine, and spirits week is officially underway. SFChefs 2010 is a food and wine event celebrating the unique flavor, diversity and bounty of Northern California. The main tasting tent will be in Union Square, where chefs, wine makers and distillers will offer an exploration of taste featuring local products. Classes and seminars will offer interactive opportunities for the public to participate with local farmers, ranchers, chefs, winemakers, distillers, media, luminaries, authors, vintners, mixologists and culinary experts in an entertaining forum. SFChefs 2010 will support the Golden Gate Restaurant Association Scholarship Foundation. The even runs now through Sunday, August 15.
Ringling Bros. Circus – Ladies and Gentlemen…Children of all ages…The Greatest Show On Earth just got Greater with Ringling Bros. and Barnum & Bailey Presents Barnum's FUNundrum!. Featuring 130 performers from six continents around the world, including almost 100,000 pounds of performing pachyderms, fifteen trampoline bouncers, ten flipping gymnasts on a teeterboard, six somersaulting trapeze artists, seven motorcycle riders in the Globe of Steel, and more clowns than can be seen with two eyes, Barnum's FUNundrum! is a super-sized spectacle so massive it took 200 years to arrive! Produced by Feld Entertainment, Barnum's FUNundrum is performing at the Oracle Arena in Oakland August 11-15 before heading to the HP Pavilion at San Jose August 18-22.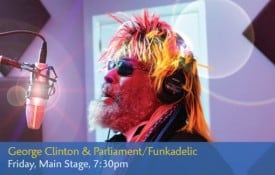 San Jose AT&T Jazz Festival – The annual 3-day Jazz Festival opens this Friday downtown San Jose across 10 stages, with hundreds of performers including George Clinton, Tower of Power, Maceo Parker, Carolyn Wonderland, Grupo Falso Baiano, Marcus Miller, Gretchen Parlato, and Jeff Hamilton Trio. San Jose Jazz is a 23 year old mission-driven arts organization that produces culturally diverse performance and educational programs designed to build a stronger, more vibrant cultural atmosphere in San Jose and the Silicon Valley.
SKIN TIGHT by Rapid Descent Physical Performance Company – Featuring three performers, two actor/dancers and a trumpeter, this debut performance introduces San Francisco audiences to a theatre company that tells stories with a potent theatricality. Rapid Descent uses a rigorous methodology resulting in the virtuosic integration of text, live music, and movement. Henderson's script, with its two passion-filled lovers playing out the entirety of their lives together in a timeless, undefined, non-naturalistic setting provides the ideal backdrop for Rapid Descent to innovatively and accessibly interweave these fundamental theatrical devices. Tickets $20.
ON OUR RADAR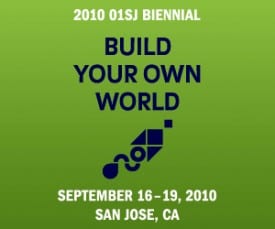 2010 01SJ Biennial – The 2010 01SJ Biennial is predicated on the notion that as artists, designers, engineers, architects, marketers, corporations and citizens we have the tools to (re)build the world, conceptually and actually, virtually and physically, poorly and better, aesthetically and pragmatically, in both large and small ways.
The Stage: Buffalo'ed Benefit – A special benefit for Buffalo'ed at The Stage in San Jose on August 20.
Beauty and the Beast – The smash hit Broadway musical, is coming to San Francisco. Based on the Academy Award-winning animated feature film. August 17 -29 at the Golden Gate Theatre.
Hot Flash! Menopause the Musical – It's time to kick-up those high heels. The international hit show Menopause The Musical® comes to the Bay Area and will be performing at the California Theatre in San Jose six for shows only, August 18 – 22 and at the Herbst Theatre in San Francisco for five shows only, August 24 – 27, 2010.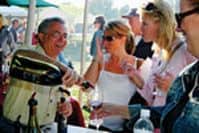 Grape to Glass Weekend – Starting Friday morning August 20th, with a daylong passport event that includes over 30 Russian River Valley wineries offering special wines, food and their own brand of fun.
Strauss to Sondheim: A Summer Evening Lawn Concert with Symphony Silicon Valley – Spend a delightful summer's eve under a canopy of stars as Symphony Silicon Valley, Maestro George Cleve, and Broadway star Lisa Vroman perform on the great lawn at Montalvo Arts Center.
Trouble in Mind – Trouble in Mind follows a mixed-race cast attempting to mount a production of a "progressive" new play on Broadway in the 1950s. Aurora Theatre Company, Berkeley. August 20 – September 26.
NOW PLAYING
New Works Festival – Attracting theatergoers from across the country, TheatreWorks' New Works Festival is the artistic highlight of the summer. An extraordinary opportunity to experience new plays and musicals in their early stages of development, the Festival has launched many new works onto TheatreWorks' stage and on to productions nationally. August 7 -22. TheaterWorks, Palo Alto.
RENT – This fresh and daring spin on Puccini's La Bohème follows the triumphs and tragedies of eight young Greenwich Village bohemians. City Lights Theatre Company, San Jose. To August 29.
Disney's Aladdin – A street urchin falls in love with a princess but it's going to take a magic genie to win her hand amongst all her rich suitors. Or will it? Berkeley Playhouse (Julia Morgan Center).
Send your news, tips and story ideas to press @ starkinsider.com. Don't forget to follow us @StarkInsider and like us on Facebook for the latest in SF Bay Area Theater, Arts, Food, Wine, Tech… and maybe even a blooper or two.
SSC – "Twice as fun / Half as smart."