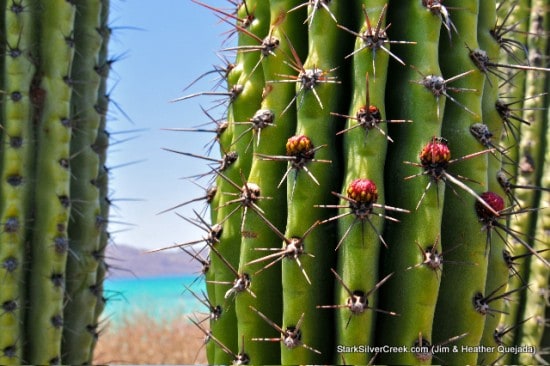 The latest photo submission comes from Jim and Heather Quejada. When I set eyes upon this collection of photos, I thought of this quote by Lord Byron (one of my favorite poets):
"Darkly, deeply, beautifully blue,"
As some one somewhere sings about the sky.
– Lord Byron (George Gordon Noel Byron),
Don Juan (canto IV, st. 110)
Thank you Jim and Heather for sharing such an inspirational set of photos. May it encourage everyone else to send in their photos before the deadline of August 31. Simply attach your photos to an email and send them to loni@starkinsider.com.
The net proceeds from the sale of this year's calendar will be donated to Eco Alianza, a Loreto charity which helps to promote environmental awareness in the community. May they help to keep our skies clear and are waters brimming with life.
For those new to the calendar series, Loreto is a small fishing in Baja California Sur Mexico. Every year we organize a charity and the community rallies with their support including photos which are used to produce a calendar.
Loreto (or Conchó) was the first Spanish settlement on the Baja California Peninsula. It served as the capital of Las Californias from 1697 to 1777, and is the current seat of the municipality of Loreto in the Mexican state of Baja California Sur. The city of 10,283 people (2005 census) is located on the coast of the Sea of Cortés, about 350 km (220 miles) north of the state capital, La Paz. The town was founded in 1697 by Jesuit missionaries. The Misión Nuestra Señora de Loreto was founded in the town in 1752. The town served as the capital of the province of Las Californias from its founding until the capital was moved to Monterey on February 3, 1777. The town then became the headquarters for the Lieutenant Governor of California Viejo (later the province of Baja California).