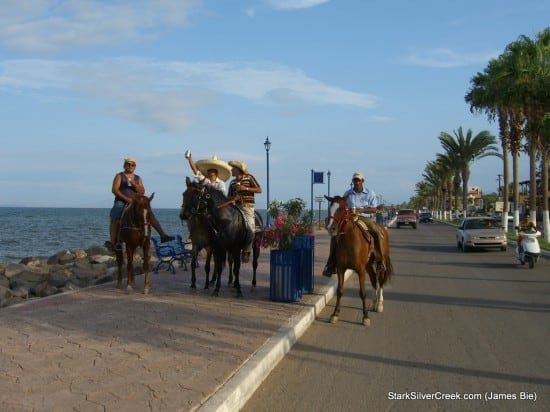 The excitement is building as the deadline of August 31, 2010 approaches for the 2011 Loreto Calendar photo contest. Today's featured contest entry comes from Jim Bie who sent in this photo with the email comment:
Here's a happy-go-lucky group I saw last year enjoying a casual ride along the malecon across from my condo.
Thanks for sharing this snapshot which captures so wonderfully a statement many of us have used, "Only in Loreto!" These amigos are definitely cruising the Malecon in style.
For those that may have missed my previous posts. This year, the net proceeds from the sale of the calendar will go to benefit Eco Alianza which fosters education and initiatives that promote and protect the fragile ecosystem in Loreto.
I thought it was appropriate given how much we love the natural beauty of Loreto that we take a moment to think about what we can do to make sure the Loreto we love is the one future generations will enjoy. Eco Alianza is one of the non-profit organizations in Loreto that is helping to do this.
If you have photos to submit, send them my way by emailing me at loni@starkinsider.com.
P.S. For those that don't know "caballeros a caballo" is Spanish for "knights on horseback".