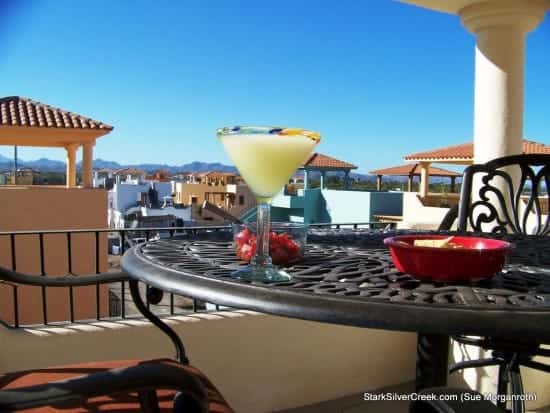 Sue Morganroth, a fellow Loreto Bay homeowner and author of, 'Sue's in Life Balance' sends in her photos for the 2011 Loreto calendar photo contest with an interesting twist.
On the first photo of her entry, she would like to include a margarita recipe. What a novel idea? We would get a beautiful photo and a delicious recipe for cool margaritas to share with friends in Loreto, Baja or where ever we are. Sue may have just started a trend. I like it!
Her second entry is already pretty unique. Chris Sessions, of wagon photo fame, made an astute observation a little while ago that we have yet to receive a Christmas themed photo…he has a good response to this which will be posted in another Loreto calendar entry. For now, I think Sue has broken the record with her next photo which is one she took coming out of a shop just before Christmas in Loreto.
Think you are as clever as Sue Morganroth? Perhaps you should be entering the 2011 Loreto Calendar photo contest then…deadline is August 31, 2010. A simple email to loni@starkinsider.com with your photos is all you need to enter. Simple isn't it?
I have been getting questions from those who have submitted photos that I have not posted here on StarkSilverCreek so I thought I would publish the queue of submissions still to be revealed. There are still photo entries from: Al Graichen, Deborah Scanlon, Kristin Hawkins, Annie Omens, David Valera, James Bie (round 2), Maria Sauvageau (round 2).
If you sent in photos and are not on this list, please resend your photo entry.