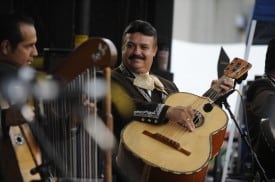 The Mexican Heritage Corporation (MHC), producer of the largest Latino heritage and music festival in California, announces its 19th Annual San José Mexican Heritage & Mariachi Festival, September 16 – 26, 2010. Featuring an unprecedented roster of artists, activists, musicians, films, and cultural and educational events for the family, the two-week festival will commemorate the 100th anniversary of the Mexican Revolution, with a special tribute to civil rights activist and Latino cultural icon, Dolores Huerta. Ms. Huerta is receiving the prestigious Steinbeck Award from the son of the famous author, John Steinbeck.
The public and media are invited to attend the free cultural and educational events/workshops, concerts, art exhibitions and film screenings. For the schedule of events, please visit: www.sanjosemariachifestival.com.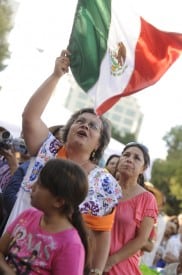 "The 2010 festival commemorates the centennial of the Mexican Revolution, and honors the revolutionaries of the past and present who make our world a better place through their art, music and humanity," said Marcela Davison Aviles, president and CEO of the Mexican Heritage Corporation.
Throughout the two-week festival, the schedule will include musical performances by headliners and Grammy Award winners Los Tigres del Norte and with special guests Intocable and popular Latino Blues band and "rockeros" to be announced during the summer; a performance of the critically acclaimed solo show "¡Gaytino!" by artist and creator Dan Guerrero; screenings of notable Bay Area Latino filmmakers and documentarians; and an extraordinary Latino art exhibition of the lost murals of Miguel Covarrubias.
Festival Highlights:
September 25th marks the world premiere of "¡Adelita! The Women of the Mexican Revolution" A musical adventure, a dazzling theatrical piece created and directed by Dan Guerrero, named "One of the 25 most powerful Latinos in Hollywood" by Hispanic Magazine. Mr. Guerrero was selected to direct the production by Grammy Award winner Linda Ronstadt, who is the Festival's Artistic Director. ¡Adelita! tells the gripping story of the women who fought in the Mexican Revolution — a story of bravery, loyalty, courage, love and passion that weaves music, dance, and historic visual projections to create a magical fable.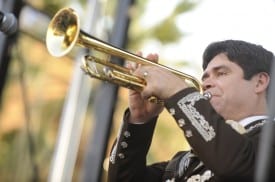 This new musical features live performances by Mexico City chanteuse Eugenia Leon, and the world class Mariachi Cobre and Mariachi Los Camperos de Nati Cano. The event will also include a special celebrity tribute to civil rights activist and modern day "soldadera" ("female soldier") Dolores Huerta, who will be in attendance at this performance commemorating her 80th birthday. ¡Adelita! will be performed at the San Jose Event Center.
On September 26th, Grammy Award winners Los Tigres del Norte, Intocable, and another blockbuster Latino Blues band to be announced in August will appear in a very special reunion event — "A Concert for the American Dream" at San Jose's HP Pavilion, in the Festival's second annual music tribute to Cesar Chavez.
A FREE day on September 26th of music, art, culture in San Jose's downtown Plaza de Cesar Chavez featuring United Nations cultural ambassadors Ozomatli and direct from San Antonio Grammy winners Los Tex Maniacs.
"We expect thousands of people to converge on Silicon Valley to celebrate Latino culture and commemorate the centennial of Mexico's Revolution," said Dan Guerrero. "While the Revolution was a time of political and social unrest in our history due to the great economic disparity between the rich and the poor, it came to an end with the promulgation of a new constitution and a Mexico grounded in social justice and community. The 2010 Festival is a celebration of our heritage, as we proudly educate and inspire the public and our society on the contributions of Mexicans and Latinos in today's civic culture."