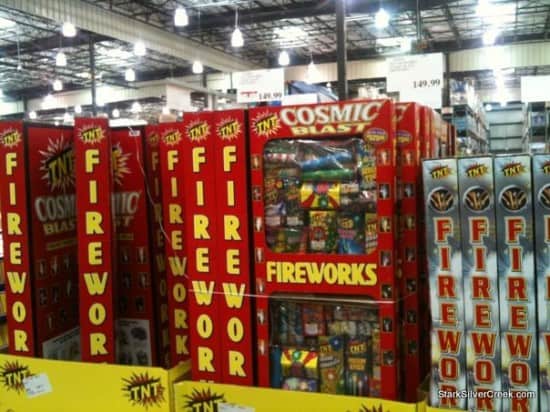 Fourth of July and in the mood for some fireworks? You're not alone as fireworks are one of the key images that most people have when they think of Independence Day.
There are numerous shows in the Bay Area. From the hill top vantage point where we live, we see fireworks coloring the evening sky up and down the west coast.
If you are looking for the ultimate display of pyrotechnics in the Bay Area, here are my top picks:
San Francisco Fisherman's Wharf: The area is gorgeous even without fireworks. Add in Fourth of July Festivities and this location easily makes the cut as one of the best places in the Bay Area to celebrate this national holiday. Festivities usually begin by 3 pm with live music along the water's edge. Fireworks starts after dark around 9:30 from the barges just north of Pier 39.

Because this venue attracts a lot of people from the Bay Area, using public transit (Caltrain, Bart) is recommended. Wear good walking shoes to get around as there will be many pockets of live entertainment prior to the fireworks show.

Bring a backpack with water, sunscreen, and make sure each member of your group has a cell phone in case you get split up. Dress in layers as the weather in San Francisco can get very chilly in the evenings. There are plenty of vendors along the wharf that I think make a living just selling jackets to the less prepared visitors.
Berkeley Marina: Berkeley is a bohemian mecca of arts and music and Fourth of July is no exception. Entertainment kicks off on the south shore of the Berkeley Marina at the foot of University Avenue from noon to 10 pm. The finale is a grand display of fireworks at the end of the Berkeley Pier which commences at 9:30 pm. Click here for more event details.

There is plenty of free parking at this venue although the roads around this even do close from 7-10:30 pm so plan accordingly. Bring your own reusable plates and utensils so you can enjoy the great food but lower your impact on the environment.
Shoreline Amphitheatre in Mountain View: If you are looking for a grand show, the San Francisco Symphony this year kicks off the evening at the Shoreline starting at 8 pm followed by a spectacular display of fireworks. You will need to get tickets ahead of time. Here is a link to purchase tickets. This is a good option if you are not looking to fight crowds as you enjoy the fireworks display. There is assigned seating.