Guest post by Pat Reardon.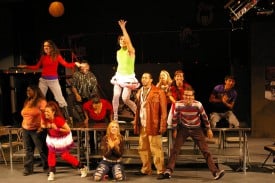 Rent, the iconic 1996 lament of New York's youthful Bohemia is the last production in City Lights' 2009-2010 season. This acclaimed Tony Award-winning rock opera updates Puccini's La Boheme with the tale of a group of struggling artists coping with poverty, disease, homelessness and heartbreak in New York's East Village in the late 80s. This highly personal memoir of author Jonathan Larson reworks Puccini's classic and drops it into a late 20th Century world where Aids, homelessness and broken dreams were a common part of many young people's lives.
Larson's dream of bringing musical theatre to the MTV generation lives on. Rent opened to outstanding reviews, and after a short run off-Broadway moved to the Nederlander Theatre on 41st Street to sold-out audiences. Larson, who died the day before the first preview of the production, would have been proud to see how passionately young audiences embraced his work. Rent went on to become the 9th longest running production in Broadway's history.
Rent is the story of a motley assortment of talented but ill-fated characters that are either homosexual, drug addicted, Aids infected, bi-sexual, rejected or recovering from one affliction or another. They have very few possessions in life.  But they have each other. And, it is the love that they share amongst them that carries the tale.
Roger (Brian Palac), the repressed depressed musician with Aids is freed from his emotional bonds when he finally lets Mimi (Megan Woodruff) into his heart. Palac is excellent in this role. He was recently mentioned in Wave Magazine's Silicon Valley Small Theatre Awards as an Actor to Watch. No wonder.  He brings passion and energy to his performance. His voice is exceptional and he moves effortlessly on the stage.  We would be fortunate to see more of him.
Maureen (Jacqul Elliott) and her lover Joanne (Nicole C.Julien) are outstanding together in Act two's bluesy, sexy "Take Me or Leave Me." Their voices are strong and both deliver a huge punch of passion to the performance.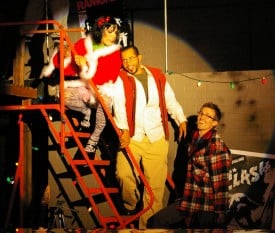 But the shining star of the evening is the heart-breaking transvestite drummer Angel (Adam Barry). His character is by far the most memorable of the production.  Barry is outstanding in his ability to project Angel's bottomless pit of love for all who surround him.  But he saves his most poignant performance for his lover, Tom (Jamie James) in Act two's "I'll Cover You." Barry's performance is clearly the most sensational of the night. His Angel is campy, sexy, loving and full of life, even when he is dying of Aids.
Unfortunately, at Saturday's production the volume and bass of the band often drowned out the performer's voices. In this type of performance it is critical that the audience understand the libretto.  This regrettable circumstance didn't dampen the audience's enthusiastic reception of the performance.
Rent is not a production for the faint of heart. Its story isn't just about paying or not paying the rent, that unfortunate contractual obligation that secures a roof over our heads. It is also about our most primal of emotions, our love for one another. And it is about the people that we become when that love is rent from us and rips an incredible hole from our hearts and souls.
City Lights is Silicon Valley's little gem. With a shoestring budget and casts consisting mainly of amateur performers, Artistic Director Lisa Mallette weaves theatrical gold from talented artistic straw. Good theatre and good art isn't just about producing five star vetted productions with seasoned veteran talent. Fostering a balanced theater scene involves encouraging new talent both on and off the stage. We are lucky to have such a creative and fearless production house in our area.
Rent
City Lights Theatre Company, San Jose
3.5 out of 5 stars
Directed by Lisa Mallette
Written by Jonathan Larson
Starring — Ensemble
Run time: 2 hours 40 minutes with intermission
Special Benefit Sing-a-Long Performance and Reception: August 25, 2010
Runs through August 29, 2010