"How is shave ice different than a slushy or snow cone? Or are they the same thing?" I asked the lady behind the counter.
I had popped into one of the most colorful Shave Ice shops along Alii Drive on the Big Island aspiring to get to the bottom of this profound question. Around me bottles of different liquid flavors hung in single file from the ceiling. One lady behind the counter was busy tinkering with what looked like a machine used for creating the ball of ice, must be broken. The other woman takes the order from a group of teenagers, clamoring for some cold relief on a hot, humid day along the ocean.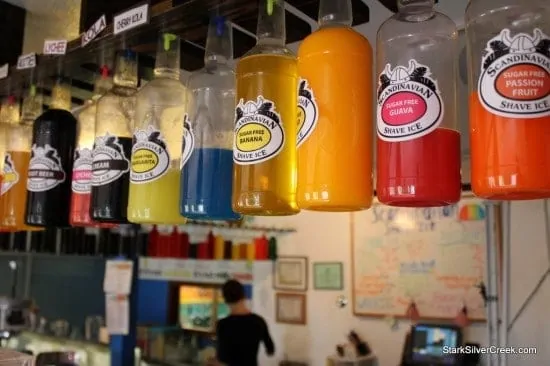 I was trying to get to the bottom of my curiosity while the primal part of me was already studying the array of different options I could select to construct a shave ice ball of my own.
Turns out shave ice is different in the way that it is made and this impacts it texture and flavor. A shave ice ball must be constructed from the shaving of ice from a block of ice. This creates finer bits of ice than the crushed ice used for snow cones and slushies.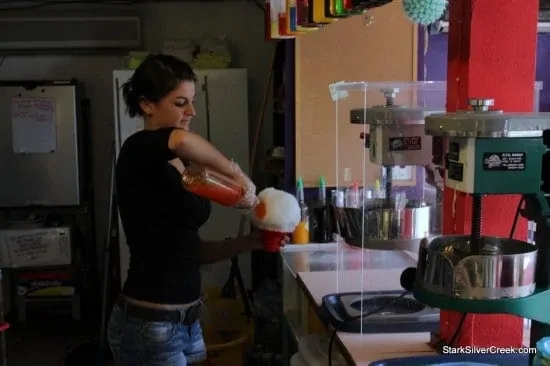 The other difference I would note later on is how seriously the Hawaiian people treat their shave ice. Quality is determined by how fine the ice is shaved and the quality of the syrups. It didn't take long after I had stepped out with my shave ice that I could hear chatter from others on what they thought of their shaved ice and how it compared to the one they tasted at a shop located at such and such place.
Okay, enough education on the whole matter, let's rewind back to the moment I am selecting my very own shave ice ball. The sheer kaleidoscope of flavors was intimidating. I must not be the only one who feel this way. Taped to several posts around the shop were prepackaged selections of flavor trios for those that needed guidance.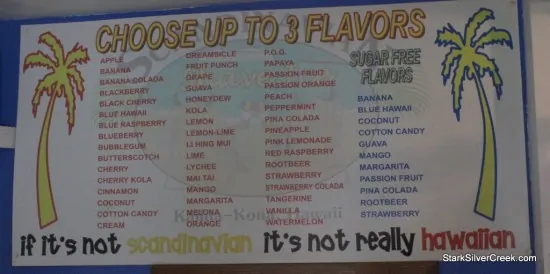 I finally select the "Rich" combination of flavors which included flavors of orange, strawberry and banana. I then decide to substitute the banana flavor with mango as I recalled a bad experience in the past with a not-so-great banana flavored syrup. Funny how an experience like that tends to stick with you.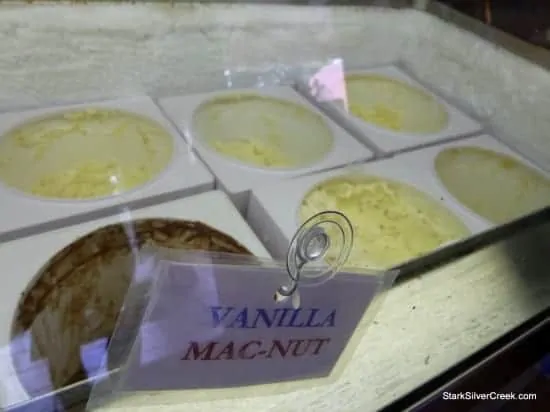 For the ultimate experience, I select a macadamia nut vanilla ice cream to go under my shave ice ball. To do this, a cone is filled with some shaved ice, then a scoop of ice cream is placed over it followed by what seems like a mountain of shaved ice that encompasses the ice cream, encrusting it. The flavor syrups are then poured on this ball.
Total for this indulgence? $5.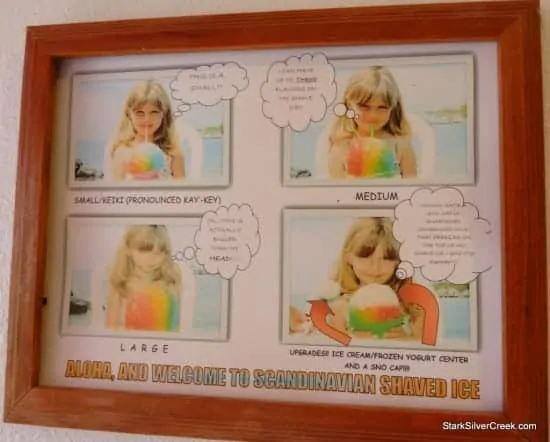 At Scandinavian Shave Ice, the sizes range from small, medium and large. The small is huge. I asked if anyone really ordered the large. The woman smiled and said only if they didn't know the sizes that they come in or its to share with a large group.
The plastic flower cups are deceiving in size as they look small but when you get the actual shave ice ball, it is this monolithic ball which requires focused attention to made sure it doesn't swing off balance.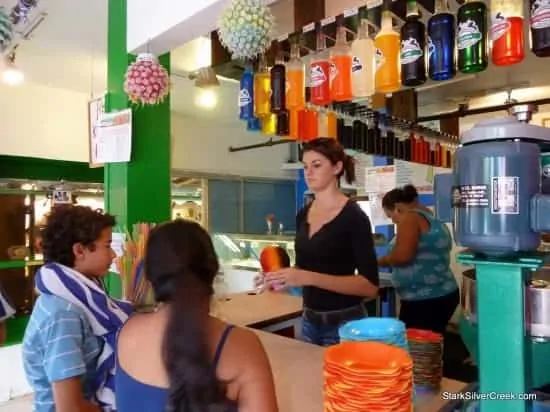 Two spoons and a straw and I was on my way with Clint to go figure out how to eat one of these Hawaiian delicacies. I asked for any tips.
Tips for Eating Shave Ice

1. Start from around the ball, scooping from the bottom edge of the ball up. Try to do this evenly around the circumference of the entire ball so that no part starts to melt.

2. Do not dig in the center as it will cause the entire ball to collapse. This is a natural tendency of folks eating shave ice for the first time.

3. Use the straw to suck any melted ice and syrup from the bottom of the cone so that the ball does not become water-logged.

4. Pace yourself or you will be mouth and brain freeze.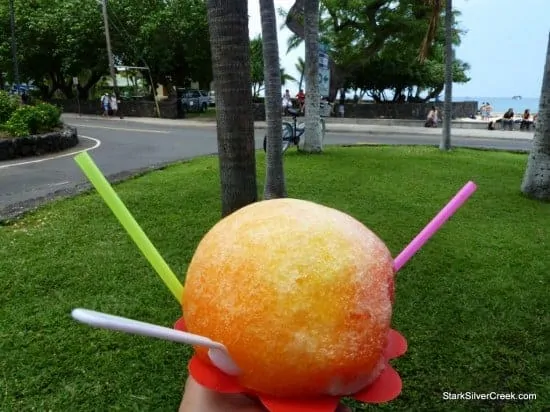 Returning back to the humidity outside, I could fully appreciate the fascination Hawaiians have with shave ice as I scooped another mound of ice infused with tasty mango syrup into my mouth. How refreshing!
The ultimate treat though was when we found a place along the seat wall overlooking the ocean and we got deep enough into the shave ice to get a spoonful which was a combination of macadamia nut ice cream and shaved ice. The combination was like a Creamsicle, but oh, so much more ono-licious. Did I mention it was hard to share it with Clint?
If you haven't had shave ice, it is definitely a treat you must indulge in when you are in Hawaii. For those that are fanatics, let me know of great places to visit on the next trip to the Hawaiian Islands.
Now I just have to find a place in the San Francisco Bay Area for my shave ice cravings…
Scandinavian Shave Ice
This location we visited has been in the heart of Kailua Village along Ali'i Drive for over 15 years. The ice cream is handmade in Kona by Big Island Ice Cream.