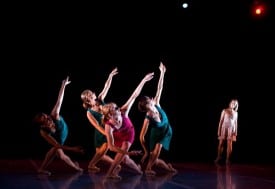 After a successful inaugural season in 2009, The DanceWright Project returns with the premiere of Olympus Rising – a science-fiction themed ballet set to music from the concept album by jazz/rock guitarist, Chris Tozzi. Tozzi, just as he did last season, will play live for the show.
"Last season was very well received. Folks loved Tozzi's original score for Bella Donna. We're coming together one more time with a work that will have a little more edge," said DanceWright Project Artistic Director, Jamie Ray Wright.
The DanceWright Project will also be performing two other repertory works – Sacredly Secular and a completely reimagined version of Alter Egos (score by Richmond, CA composer, George Peter Tingley).
Once again, The DanceWright Project will host a number of guest artists. Dexandro Montalvo with bring his hip-hop inspired ballet company, Adhesive Dance Group, to the show. Kat Worthington returns with her new company, Copious Dance Theater, and DAC PAC, the youth dance group from the South Bay and the hit of last season, will make an appearance.
The DanceWright Project continues its fusion of a pop culture aesthetic in a high culture context . Its shows are known for their energy and honest sensuality. This season will be no exception.
The DanceWright Project is the brainchild of Artistic Director, Jamie Ray Wright. For almost a decade, he has been creating a new paradigm for contemporary dance movement. While retaining much of the ballet vocabulary and combining it with other movement inspirations, dance is placed in the context of natural situation. The music comes from the most enduring examples of popular culture from around the world – blues, new age, 1930s club jazz, electronica, bossa nova, and more. The costuming is "street-friendly." With very few exceptions, nothing is worn of stage that wouldn't be appropriate on the street, in the "real world". The result of this approach is a fusion that draws in the non-dance fan and the casual dance watcher, while providing a great deal of substance for the dance aficionado.
Chris Tozzi, hailing from San Francisco, is an instrumental guitarist who writes and performs under the band name "Tozzi." Chris has been active in the San Francisco Bay Area music scene since 2003 and has been in many bands, including Coke, White Nile, Rock Show, and Golden Vein. Chris' father, Mike Tozzi, and brother, Michael Tozzi Jr., are both accomplished musicians who perform and record in the Central Coast part of California. Tozzi has been compared to the styles of Joe Satriani, but departs in touch and feel by detaching from the normal "shred instrumental guitar player." Inspired by early instrumentalists, such as The Ventures to modern day Steve Vai, as well as contemporary movie and game soundtracks, his fusion of unique sound creates a journey for the listener described as "colliding with the outer reaches of space." Tozzi's debut album, "Olympus Rising" (Release Date: September 10, 2008) is a mixture of textured rock-driven melodies.
Award-winning composer, George Peter Tingley, has accumulated more than 50 years of musical experience, a rich musical journey that began with study of the violin at age four. By 16, George was already a full-fledged member of San Francisco's Musician's Union Local #6, listed as keyboardist, bassist, composer, and arranger. His training has been absolutely first-rate beginning with early study of the violin under the tutelage of noted Bay Area cellist, conductor, and composer Dr. Alexander Manke. Harvard-trained organist Dr. Kenneth Mansfield guided his progress in his early teens. After completing three music degrees (two at the University of Southern California), George went abroad to Paris to study privately with one of the greatest teachers of the 20th-century, Nadia Boulanger. George is highly accomplished in several areas of music including teaching, composing, and recording. In addition to college teaching and his well-documented contributions to the Music Teachers' Association of California, George has produced over 100 educational works published by such prestigious companies as Alfred, Hal Leonard, and Warner Bros. He has written for Olympic gold medalist Kristi Yamaguchi and his music has been featured on ABC and CBS television networks including one Super Bowl commercial. Most recently his music has been heard in the films of celebrated Japanese documentarian Jin Tastsumura. Supplementing his encyclopedic knowledge of music theory is George's exceptional practical knowledge of orchestration, musical acoustics, computerized music, and audio engineering.