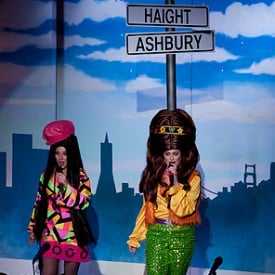 Steve Silver's Beach Blanket Babylon, the world's longest running musical revue, is proud to present a sign language interpreted performance for the hearing impaired on Sunday, July 25 at 5 p.m. Using their hands, bodies and facial expressions, American Sign Language (ASL) interpreters Michael Velez and Sherry Hicks will translate the spoken and musical parts of the show into signs and rhythms. The interpreters will be placed on the main floor and will have separate lighting, which will enable the audience to see them during low light moments.
Recently hailed as "A constant cascade of showstoppers" by the San Francisco Chronicle, Steve Silver's Beach Blanket Babylon follows Snow White as she takes a fast-paced journey around the world in search of her "Prince Charming." Along the way she encounters a star-studded, ever-changing line-up of hilarious pop-culture characters, including Tiger Woods, President Barack & Michelle Obama, Lady Gaga, Beyoncé, Jon & Kate Plus 8, Sarah Palin, Susan Boyle, Nancy Pelosi, Hillary Clinton and her husband Bill, Oprah Winfrey, Taylor Swift & Kanye West and Michael Jackson.
Tickets for this special performance range in price from $25 – $80 and are available now at beachblanketbabylon.com, by phone at (415) 421-4222 or at the Beach Blanket Babylon Box Office (678 Green St.). Tickets may also be purchased by fax at (415) 421-4817. TTY users may call the California Relay System at (800) 735-2929. Tickets are being held for hearing impaired audience members.