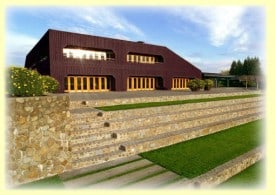 For the first time, Sonoma-Cutrer Winery opened its doors to the public and showcased its newly renovated tasting room and offered tours of its world class winery. While Sonoma-Cutrer has been making award-winning wines for more than two decades, this is the first time visitors have the opportunity to see first-hand how its grapes are grown and crafted into renowned wines.
Nestled in Sonoma-County, California, Sonoma-Cutrer captures the spirit of the Russian River Valley. The tasting center will be open Thursday – Monday and tours will be offered by appointment. Guests will be able to taste the wines while getting a behind the scenes look at how Sonoma-Cutrer wines are crafted from the grape to the bottle. Visitors will even have the opportunity to experience the world renowned croquet courts located at the winery.
"People have been inviting us into their homes for years, so we thought it was time to invite them to our home," said John Hudson, Sonoma-Cutrer brand director. "We want to share our beautiful winery, unique winemaking techniques and our wonderful Sonoma-Cutrer experience with our consumers."
To commemorate the occasion, the winery hosted an open house for consumers and members of the trade on July 10. Guests were welcomed by the winery staff, including the winemakers, and enjoyed music, wine and food pairings, and croquet on the renowned Sonoma-Cutrer croquet courts.
Sonoma-Cutrer is best known for its successful and consistent Chardonnays and its precise winemaking methods used to craft these fine wines. Made in the traditional Burgundian style, Sonoma-Cutrer follows a strict process of winemaking which ensures the highest quality and craftsmanship and allows the wines to age well over time. This precision also enables a consistent wine quality which has led Sonoma-Cutrer to the top of the Wine and Spirits Restaurant Poll — for 19 of the last 21 years, Sonoma-Cutrer has been voted the #1 Chardonnay.
In 1991, Sonoma-Cutrer began making Chardonnay with the theory to "do one thing and do it as well as you can." Bill Bonetti, the original founder and winemaker was inspired by traditional Burgundian winemaking and grape growing methods and instilled this process into Sonoma-Cutrer. These methods, which have proven over time to make the best Chardonnays, include planting with more modern clones and trellis systems, spacing the vines close together, and planting the rows at 207 degrees (true North) for equal amounts of sunlight on the vine to encourage even ripening.
Over time, Sonoma-Cutrer has (created) major initiatives to ensure it's making the best wine possible including installing cooling tunnels, sorting tunnels (which ensure hand sorting), and surlees aging (stirring the barrels once a week to add body/mouthfeel). Additionally, the winemakers studied French forests and oak stave seasoning to ensure the winery uses balanced barrels to create finesse, spice, delicate touch and balance with fruit as Sonoma-Cutrer is known for its consistent quality in producing crisp, clean, lean, elegant Chardonnay that pairs well with food. And although Sonoma-Cutrer is known for its precise tradition, it is always looking for the best means to improve quality, for example the new stelvin closure, to which it has recently converted its Russian River wines.
Sonoma-Cutrer is one of the brands marketed by Brown-Forman Corporation, a producer and marketer of beverage alcohol brands, including Jack Daniel's, Southern Comfort, Finlandia, Canadian Mist, Fetzer, Korbel, Gentleman Jack, el Jimador, Tequila Herradura, Chambord, Tuaca, Woodford Reserve and Bonterra.
Sonoma-Cutrer Tasting Center
Open Thursday – Monday
Tours & Tastings available by appointment
Tasting: $10; Tasting & Tour: $25