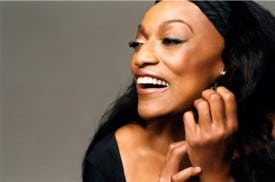 Michael Tilson Thomas and the San Francisco Symphony open their 99th season on Tuesday, September 7 with a festive Opening Gala featuring acclaimed American soprano Jessye Norman. The program features Norman performing five songs by Duke Ellington including "Don't Get Around Much Anymore" and "It Don't Mean a Thing (If It Ain't Got That Swing)," and Copland's In the Beginning with the San Francisco Symphony Chorus. Also on the program is Berlioz's Roman Carnival Overture, and Suite No. 2 from Ravel's Daphnis et Chloé.
Special pre-concert dinners will begin at 6:30 p.m., with the Patrons' Dinner in the Louise M. Davies Tent Pavilion and the Symphony Supper and Symphonix Dinner in the Rotunda and North Light Court of San Francisco City Hall. Before the Gala concert all guests are invited to the Promenade to walk the red carpet, mingle, and enjoy complimentary sparkling wine beginning at 7:30 p.m. in Davies Symphony Hall. Following the concert all guests are invited to enjoy two after-parties in City Hall and the Tent Pavilion with complimentary cocktails, savories, and live entertainment by The Fundamentals, and Jonathan Poretz and a Swingin' Night at the Sands. Proceeds from the event benefit the San Francisco Symphony's education, community, and artistic programs, providing music education to more than 75,000 Bay Area children each year.
Jessye Norman is one of the world's most celebrated sopranos. In February 2010, Norman and Michael Tilson Thomas were among those awarded the National Medal of Arts by President Barack Obama in a ceremony at the White House. In June 2010, she released her first solo album in more than 10 years, Roots: My Life, My Song, which was recorded live at the Berlin Philharmonie. Alongside gospel songs and spirituals she performs jazz songs for the first time in her career. "I wanted to sing something that really inspired me. These are songs that have accompanied me all my life, songs by Thelonious Monk, Ella Fitzgerald, Duke Ellington and others," she said about her new album. In addition to Ellington's "Come Sunday" and "Sophisticated Lady," and Copland's In the Beginning, Norman will perform three Ellington songs from her new album at the SF Symphony Gala: "Heaven," "Don't Get Around Much Anymore," and "It Don't Mean a Thing (If It Ain't Got That Swing)." The SF Symphony Opening Night Gala is Norman's only U.S. appearance this fall. Listen to Jessye Norman discuss her new album on NPR's Morning Edition here. Click here to read Jessye Norman's full biography.
The 2010 Opening Gala Committee includes Chairman Emma Goltz; Patrons' Dinner Co-Chairs Leona Bridges, Paula Carano, Kate Sheridan Chung, Gail Covington, Angelique Griepp, Lisa Grotts, Becca Prowda, Elaine Shen, and Judy Zafran; Symphony Supper Co-Chairs Michael and Letitia Kim, and Betsy Vobach and Dan Deshon; Symphonix Dinner Co-Chairs Kristen Harper and Maggie Hazelrig; and After-Party Chairs Samuel Leichman and Zen St. Clair. The Honorary Chair is Genelle Relfe.