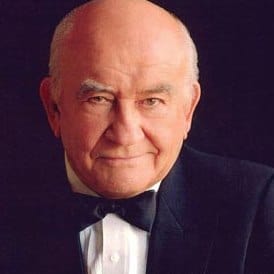 The San Jose Repertory Theatre has pulled out all the stops for their July show, bringing award-winning actor Ed Asner to town for a one man show.  Whether you know him as loveable Lou Grant or the voice of endearing Carl Frederickson in Pixar's UP, there is no doubt that Ed Asner's affable appeal has crossed over several generations.  This week he stars in the solo performance of FDR, "bringing to life one of America's most beloved and influential presidents."
The stage is set sparsely, with a dark black backdrop, two chairs, a desk and a podium.  Also on stage is the wheelchair which Roosevelt used at certain times in his life.  When Mr. Asner first walks on stage there is a certain giddiness at being so close to this beloved actor.  However, within minutes the actor disappears and Franklin Delano Roosevelt is there before your eyes, telling story after story about his life.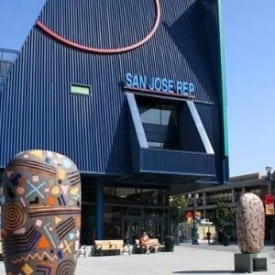 He tells anecdotes about his entire time in office and the years leading up to it, bringing humor to the telling of a difficult life, and showing a great deal of humanity behind the difficult decisions of a president who served during what were arguably twelve of the most difficult years in our country's history.  There are stories about his battles with polio, his journey to the presidential office, and the horrific decisions he had to make during times of war.  Through it all our attention is kept by this charismatic character who loved to play poker yet felt bittersweet about his (lack of) attentions to his family; he had passion for both, but far more for his duty to his country.
This show will appeal most to history buffs, and the star of Ed Asner will be a great draw as well.  FDR was a flawed man who was given great struggles in life, overcame them, and went on to become one of our greatest presidents, and his story will hold your attention.  Overflowing with both humor and humanity, FDR is a show for every American, to remind us from where we've come, where we are now, and what we should do for our future.
This show is only playing through July 18 and is almost sold out, so get your tickets quickly.
FDR
The San Jose Repertory Theatre
4 out of 5 stars
July 14 – 18, 2010
by Dore Schary
starring Ed Asner
In addition, there is a chance to meet Mr. Asner face to face on July 17!  There will be a Dessert Reception at the Silicon Valley Capitol Club where you will have the chance to listen to the actor speak up close.
A Dessert Reception with the Dynamic and Engaging Ed Asner
Saturday, July 17, 2010 at 10:00 pm
Immediately after the show.
50 W. San Fernando St., Suite 1700
Reception tickets: $100 each
For Reception & Show Tickets: 408.367.7255