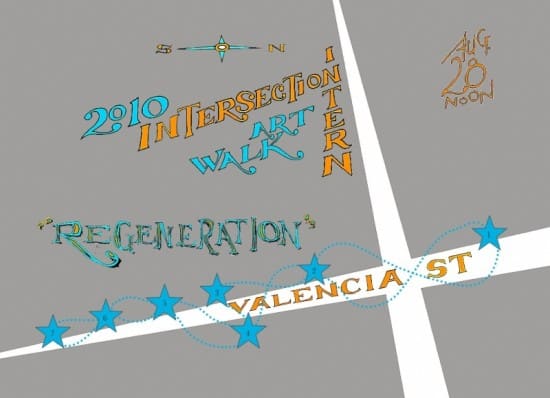 Intersection for the Arts in San Francisco has announced they will be holding a tour of artwork curated and created by current and previous participants of Intersection's Leadership Training Program. The event starts at Intersection for the Arts at 12pm and then a walk to participating locations begins. The Regeneration Art Walk will include paintings, photographs, installations, sculpture, video and dance. This multi-location exhibition set in the windows of local businesses explores regeneration as an integral aspect of growth in our personal lives and the lives of our communities. The storefronts and city streets remind us that sharing our art in public spaces helps to enliven communities.
Artists explore the theme of regeneration through the lens of personal fashion, image, and identity. It is woven into sexual histories; experienced within the renewal of spirit and one's kinesthetic relationship with nature; taken to cosmic realms where Mother Nature and technology collide; and used to question what happens to the human body and one's perception of it when it is revamped and reconstituted into virtual form.
The guided art walk on Aug 28th will allow the community an opportunity to hear about each artist's creative process and response to the theme of regeneration. Much of the work will stay in the storefronts in the weeks preceding and following the art walk, allowing a larger number of people to see the show. As emerging leaders in the arts, current and previous interns are uniquely situated to explore how art can be used to facilitate regeneration in their personal lives, the lives of their communities, and within their continuing work as arts advocates.
Participating artists and locations include:
Daria Kaufman, Intersection for the Arts (446 Valencia)
Saluzdina Banderas, Muddy Waters (521 Valencia)
Megan R. Orr, Ellsworth William Scott Architect (871 Valencia)
Ana Bedolla, Paxton Gate (824 Valencia)
Bianca Ana Chavez, Modern Times Books (888 Valencia)
Rhonda Pagnozzi, Dog Eared Books (900 Valencia)
Angela Dix, Five and Diamond (510 Valencia)
Now in its 45th year, Intersection for the Arts has activated space and time for people to come together to imagine new cultural experiments that aim to transform our world. Today, Intersection pursues innovative models and strategies in order to assert the role that cultural space plays in building and re-building community. In fact, Intersection's work has always kept ever-evolving notions of "community" at its core. With the shifting dynamics of technology, time, audiences, and social space, Intersection for the Arts seeks ways of forging deeper and more relevant connections. We believe that art can animate and engage community and neighborhood spaces like nothing else.
The Intersection Leadership Training Program is a year-round, highly regarded internship program with competitive enrollment. The program aims to address the needs of emerging artists and arts leaders by providing opportunities in career building, professional development and hands-on experience. It offers comprehensive six-month internships including hands-on participation in producing, administering and promoting multidisciplinary arts activities. This program is designed to offer those passionate about the arts the opportunity to become a key member of the Intersection team.
Event: Regeneration: Intersection for the Arts Intern Artwalk 2010
Date: August 28, 2010
Time: 12pm
Cost: FREE
Location: Intersection for the Arts, 446 Valencia St. (and participating stores in the Mission District)

All ages welcome, wheelchair accessible entrance at 446 Valencia St.
Ana Bedolla is originally from Michoacan, Mexico and currently working towards her BFA in Sculpture at the Academy of Art University. Her body of work consists of installation art using ceramic, live plants, wax and mixed media. Ana's work is highly influenced by nature's understanding of complexity and its undeniable ability to regenerate. She has shown her work at the Academy of Art University Gallery, Intersection for the Arts, Good Vibrations Gallery and California Conference for the Advancement of Art (CCACA).
Angela Dix was born and raised in Independence, Missouri. Throughout her childhood she acquired an affinity towards the arts, which then motivated her move to Kansas City, a city that plays host to a modest, but thriving art scene. There she attended a junior college and studied fashion. To further her knowledge and fuel her passion of fashion design, Angela moved to San Francisco to attend the Fashion Institute of Design and Merchandising (FIDM). After graduating and traveling, in 2008 she co-founded fACTION, a collective of 6 women who develop fashion events that fuse design, performance, action, and social change. These women have partnered with organizations like Darfur Peace and Development, Pride at Work, Mujeres Unidas y Activas, and other non-profits focused on supporting women's rights. In 2009 she co-founded Suki Tawdry, a performance art collective that uses its many crafts such as video, dance, sound, and fashion design to create layered performance pieces. Currently she is working on her new line MYSDIX with business partner Gideon Newell.
Bianca Ana Chavez sees painting, gardening, and dance as a way to empty the body to make space to be moved by an image or connection with the earth. She has shown her paintings at The Mission Cultural Center for Latino Arts, Ong King Art Center, and with The N.I.C.E. Project. She has tended the earth on Mount Le'ahi, The Beatrice Krauss Hawaiian Ethnobotanical Garden at Lyon Arboretum, an indigo farm in Japan, Green Gulch Farm, Inkland, and El Jardin Secreto/The Secret Garden. Her fascination with dance has lead her to train with Lori Ohtani, Yoshito Ohno, Dairakudakan, Shinichi and Dana Iova-koga, and Sherwood Chen. Despite being a 'non-dancer,' she has performed with Lori Ohtani's Tangentz Performance Group and Terre Unite Parker's Experiments in the Environment Lab. As an intern at Intersection for the Arts she is developing skills in arts administration so that she can work with and for artists to ensure all communities have access to the creative process.
Megan Orr was born and raised in Richmond, California. Since her family was extremely financially strapped, her and her siblings entertained each other with their imaginations. Drawing made her feel good about her uniqueness. Her interpretation of something was allowed to be different; she was not scolded for it. In 2006, while discovering digital storytelling and the language of cinema, she was studying sociology and the ins and outs of globalization. Distraught by the immense amount of horrific wars and pollution that the United States has befallen onto the rest of the world, she found herself truly wanting to capture the insanity of capitalist ideology and consumerism. In 2009, Megan graduated with honors from the University of California, Santa Cruz with a B.A. in Film and Digital Media and a minor in Sociology. By combining these two disciplines, the concentration of her film studies has been on production with a special interest in documentary filmmaking. For three years now she has been an Associate Video Editor for The Muse, an independently produced documentary periodical that focuses on the creative process and social sustainability. The creative moment is life sustaining (become part of the dialogue and visit their blog: ideaculture.wordpress.com). The city of San Francisco is relatively a new home for her; its spontaneity and beauty continues to inspire her.
Saluzdina Banderas is a photographer who works and attends high school in San Francisco. As a young artist she tries to explore different aspects of the art world – from taking dance classes to doing intern programs through California Lawyers for the Arts. Selling her first photo at the age of 17, she hopes to create a career in art. Born and raised in the Mission District of San Francisco, Saluzdina attends City Arts and Tech High School where her journey as an artist started to flourish. From painting to filming in school, Saluzdina developed an addiction to the visual art world. From the age of 13 she has been involved in art programs such as Loco Bloco Drumming and Dance program where she developed dance, drumming, acting, and writing skills, but as she grew she wanted to explore other aspects besides performing, so Saluzdina took a backstage approach – from taking sewing classes with Turning Heads Sewing and Fashion to doing backstage management with Loco Bloco Performing Ensemble. It wasn't till Saluzdina was in her 2nd year of high school that she found that her passion was through a camera lens. Hoping to attend a four-year college, Saluzdina is an active teen artist on the rise to fame.
Daria Kaufman is a dancer, choreographer, and dance writer. Since obtaining her M.F.A. in Dance Performance and Choreography from Mills College in 2008, Daria has continued to perform and collaborate with artists in the fields of dance, performance art, video, sound design, and fashion. She has performed at YBCA, the de Young Museum, Counterpulse (in SFIAF), Cellspace, Climate Theater (in the POW! POW! Action Art Festival), and the Subterranean Arthouse. Her endeavors in the performance world have led her to work with many local artists, including Jose Navarrete, Debby Kajiyama, Amy Lewis, Kamau Patton, and fACTION. In January 2009, Daria co-founded the interdisciplinary performance collective Suki Tawdry, which has since performed in the Bay Area, Vancouver, and Berlin. In addition, her Master's thesis dance, architext, was televised on KQED Spark: SF Arts Alive! in August 2008. Daria was recently accepted into ODC's Pilot Program and will be presenting her choreography at the new ODC Theater in December 2010.
Rhonda Pagnozzi has worked in the field of Child and Family Psychology and dabbled in art for 14 years. She has finally begun to fully immerse herself in the art world. Psychology, however, remains a focal point in her work. She enjoys breaking things down, analyzing them, and piecing them back together, in the hopes of revealing something new.