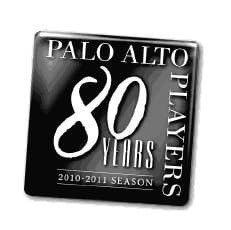 Palo Alto Players have announced their 2010-2011 season, dubbed "The Spirit Shows!" What better way to celebrate Palo Alto Players' 80th continuous season than to explore the innermost recesses of the heart, discover the mysteries of the soul, and experience the vital energy and true grit of character that theatre can best portray: "With the fire of genius, unbridled passion, and boundless gaiety and laughter, there is a real zest for living about to happen and it's on our stage."
The special anniversary season of Palo Alto Players is a diverse collection of plays and musicals that will be performed at the Lucie Stern Theater. Season tickets are now available for the five productions in Palo Alto.
Opening the season in September, audiences will be treated to a wild new comedy by one of America's hottest playwrights as a young woman in a café unwittingly answers a stranger's cell phone. Then, in November, the stage will come alive with indomitable spirit and unstoppable strength of character as Norma Desmond—a commanding legend of the silent screen—commands a dashing young screenwriter off screen.
January will reach an amazing crescendo with a touching love story between two soul mates—one a literary master and the other an American poet. April will restore faith in humanity, humor and harmony as a phenomenal Boy Band makes its final tour stop in Palo Alto to ―Raise the Praise‖. But the complete and utter joy of the 80th season won't conclude until Players present a revival of one of the world's most satisfying comedies—one which tests the wits of a novelist (and the wits of audiences) as he faces off against the spirit of one departed wife and then another!
Palo Alto Players 80th Season "the Spirit Shows"

Dead Man's Cell Phone
By Sarah Ruhl
Directed by Lennon Smith
September 11 -26, 2010
(Preview on September 10th)

In our technologically-obsessed world of staying connected, would you answer a dead guy's incessantly ringing cell phone at the next table in an otherwise quiet café? Jean does, and soon finds herself dating the dead man's brother, sharing cosmopolitans with his widow, and rendezvousing with his mistress. Jean's-never-to-be-imagined odyssey takes her to hell and back—setting the dead man's bizarre life to rights…and resurrecting her own.

Sunset Boulevard
Music by Andrew Lloyd Webber
Book and Lyrics by Don Black & Christopher Hampton
Based on the Billy Wilder Film
Directed and Choreographed by Joe Duffy
Musical Directed by Matthew Mattei
November 6 – 21, 2010
(Preview on November 5th)

She's still big, It's the pictures that go small. And now, Norma Desmond is ready for her close-up on our stage in Andrew Lloyd Webber's most lushly melodic score. Sunset Boulevard weaves a mesmerizing tale of faded glory and unfulfilled ambition when this legendary silent film star has a fateful meeting with struggling Hollywood screenwriter, Joe Gillis. The consequences are passionate, volatile and breathtakingly spectacular.

Shadowlands
By William Nicholson
Directed by Marilyn Langbehn
January 22 – February 6, 2011
(Preview on January 21st)

In the 1950's, C.S. Lewis, the Oxford professor and creator of Narnia, met American poet Joy Gresham. He was reserved – a content bachelor in his fifties. She was outspoken – a divorcee 17 year his junior. Their friendship developed into an unlikely but deep and abiding love – one which upended Lewis' convictions about God and His plan for the world and revealed a vital truth: a heart awakened to great love is also a heart made vulnerable.

Altar Boyz
Book by Kevin Del Agvila
Music and Lyrics by Gary Adler & Michael Patrick Walker
Conceived by Marc Kessler & Kevin Davenport
Directed and Choreographed by Jeanne Batacan-Harper
Musical Directed by Matthew Mattei
April 23 – May 8, 2011
(Preview on April 22nd)

Altar Boyz is a foot-stomping, rafter-raising, sidesplitting, award-winning musical comedy about a fictitious Catholic boy-band on the last night of their ―Raise the Praise‖ tour. These boys are five all-singing, all –dancing heartthrobs from Ohio: Matthew, Mark, Luke, Juan and Abraham. With right harmony, irreverent humor and sinfully spectacular choreography, they joyously deliver a message of unity – "there is not a star as bright as its constellation, no harmony in a single voice."

Blithe Spirit
By Noel Coward
Directed by Cornelia Thompson
June 11 – 26, 2011
(Preview on June 10th)

Good vibrations abound in our revival of Noel Coward's supernaturally delicious comedy of two wives and a happy medium. When novelist Charles Condomine and his current wife Ruth invite a psychic into their home in order to gather material on the spirit world for his new book, Madame Arcati performs a séance with no discernible results to anyone—with one exception. Suddenly, Charles finds himself caught between wives, one live and one late…but not late enough.