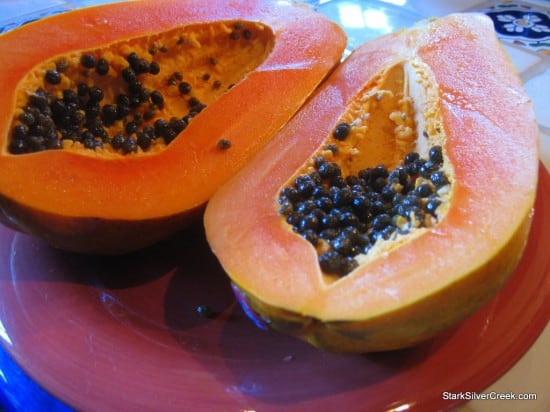 I love papayas.
My passion for papayas was only discovered after enjoying an enormous, ripe papaya in Loreto, Baja California Sur. I procured it at the local Farmer's Market.
Until then, all the papayas I've tried were bland. I suspect the papayas were harvested early from the source so they could be transported over vast distances.

The papayas from Loreto's farmer's market are large…the size of my head I would fathom. I enjoy slicing them in half, removing the loose seeds and eating the juicy sweet flesh by scooping it out until only the thin peel is left. I can easily polish an entire papaya by myself for breakfast, although I often share it with another lucky individual.
While on the Big Island Hawaii, I couldn't help but purchase a papaya I saw at a local grocery store. The papaya was about 1/2 to 2/3 the size of papayas I found in Loreto, BCS. Inside, the flesh is a little denser and has a more distinct floral scent than the larger Loreto papayas. The flesh also seemed to have a finer texture. Papaya is the second major fruit crop in Hawaii, beat out only by the pineapple.
However, I struck gold when I came across some Melissa's Strawberry Papayas at the South Kona Fruit Stand. More photos and details of this fruit market later. For now, I will just say if you are a fruit lover, you must visit this place on your trip to the Big Island. All the produce sold at the fruit stand is organically grown on the farm behind the shop.
Melissa's Strawberry Papaya has the reputation of being the sweetest, most flavorful of all papayas. I had to procure one to try out this magical fruit. The Strawberry Papaya is much smaller than the Loreto ones I've eaten and about half the size of the common papayas I've found in a local grocery store in Hawaii. It is comparable to the size of a mango. The flesh is salmon pink and a lot firmer than the other papayas. Some of this may be due to the varying degrees of ripeness of my samples.
Compared to the other papaya pictured on the left, the Strawberry Papaya seemed sweeter. This is because it did not have any of the tart acidity that I find only noticeable in the other papaya when sampled against the Strawberry Papaya.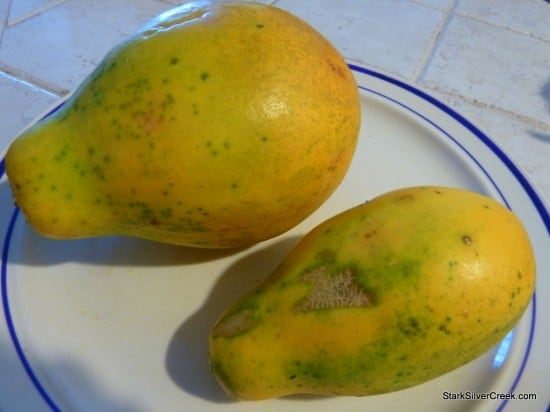 I can't believe that there was a time when papayas were used on the Hawaiian Islands to feed pigs and chickens.
Do I have a favorite type of papaya? From the ones I've sampled in Loreto and the Big Island so far, no. I enjoy the different characteristics of each. If you love papayas, I recommend you try a sampling of different types in one sitting. It helps to really appreciate the different varieties of this tropical fruit.