In honor of its 25th Anniversary, Kumu Hula Patrick Makuakāne and his award-winning dance troupe, Nā Lei Hulu I Ka Wēkiu, return to the Palace of Fine Arts Theatre for six performances only (October 16-24) with 25 Years of Hula, a retrospective that pays tribute to the company's vast body of work. Featuring several of the most popular dance pieces from the past quarter of a century, Nā Lei Hulu I Ka Wēkiu will also feature a full-length version of the newly commissioned piece, "Kumulipo" – a series of dances inspired by the epic 2000-line Native Hawaiian creation chant that is nature's song of origin. "Kumulipo" was commissioned by a 2010 Individual Artist Commission grant from the San Francisco Arts Commission.
Known for their trademark hula mua – which brings the ancient Hawaiian dance form into the modern realm by setting traditional hula movements to decidedly non-Hawaiian music resulting in a theatrical experience that is visually captivating and culturally rich – as well as hula kahiko – the traditional pre-Western style of Hawaiian dance – Nā Lei Hulu I Ka Wēkiu has garnered critical and audience acclaim throughout the San Francisco Bay Area and beyond. In 2006, Patrick Makuakāne was honored with the Malonga Casquelourd Lifetime Achievement Awards by World Arts West / San Francisco Ethnic Dance Festival for excellence in ethnic dance. Most recently, the troupe won an Isadora Duncan Dance Award (The Izzies) for Best Company for their performance of Roberta Flack's "The First Time Ever I Saw Your Face" at the 2009 San Francisco Ethnic Dance Festival. The Izzies honor local dance artists and promote the diversity and vitality of the Bay Area dance community.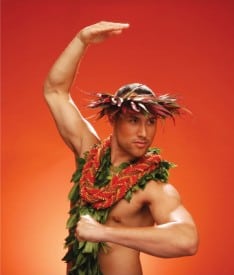 Among the pieces featured in 25 Years of Hula are "Hula's Bar and Lei Stand," a disco-inspired tribute to Honolulu's most famous gay bar featuring Matthew Martin, one of San Francisco's premier drag queens, "The Flower Duet" from the opera Lakme, in honor of King David Kalākaua, who was instrumental in reviving hula in the late 1800s after it had been banned by the missionaries and "Salva Mea," Nā Lei Hulu's iconic piece that reflects on the arrival of missionaries to early 19th century Hawaii.
25 Years of Hula will play six performances only at San Francisco's Palace of Fine Arts (Bay & Lyon Streets). Performances are: Saturday, October 16 at 8 p.m., Sunday, October 17 at 3 p.m., Friday, October 22 at 8 p.m., Saturday, October 23 at 8 p.m. and Sunday, October 24 at 3 p.m. A one-hour family matinee designed especially for children and families is scheduled for Sunday, October 24 at 12 p.m. There will be an opening night champagne reception immediately following the performance on Saturday, October 16, as well as a gala benefit Lu'au and silent auction on Saturday, October 23 at 5:30 p.m.
Tickets range in price from $35-$40 (reserved seating) for regular performances. All tickets for the family matinee are $10 (general admission). Tickets to the opening night champagne reception (Saturday, October 16) are $85. Tickets for the gala benefit Lu'au and silent auction (Saturday, October 23) are $150. Tickets are on sale now through City Box Office at 415-392-4400 and on the web at cityboxoffice.com.