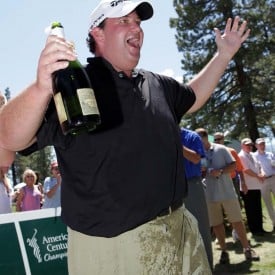 During the American Century Celebrity Golf Championship– often referred to as the Super Bowl of celebrity events, many players took the opportunity to show off their locker-room celebratory skills in the third annual "Korbel Celebrity Spray-Off."
Participating players included winner Brian Baumgartner, runner-up Mark Mulder, and third place finisher Mark Rypien among more than 40 other celebrity participants. The competition was based on cork distance (but style and champagne spray added to the excitement for the fans).
Actor Brian Baumgartner, the somewhat grating office worker with the slow speaking manner on "The Office" took the title of "Spray-Off Champion" when his cork soared past the corks of sports all-stars to champion a 75ft blast.
Two-time All Star Pitcher Mark Mulder placed second with a 71ft blast. Although former NFL All-Pro Quarterback Mark Rypien shot a 64ft drive to place third, he exhibited the best style.
Among crowd favorites were Michael Jordan with his signature cigar in hand, Bret Saberhagan who drenched the crowd, Jim McMahon playing in his bare feet, Trent Dilfer who put on his rally cap for extra style points, Jack Wagner who demonstrated some unique dance moves and Vinny Testaverde who was determined not to let the rookie athletes show him up.
Former NFL All-Pro Wide Receiver Jerry Rice and Marcus Allen, NFL Hall of Fame Running Back won over the crowd with their exciting champagne sprays and long distance corks.
Hockey players Brett Hull, Mike Eruzione, and Jeremy Roenick seemed to have an advantage as they showed they had some serious champagne-spraying know-how as their sprays had the most flair and style (likely learned from years of practice winning championships).
NBA greats Shane Battier and Jason Kidd popped slam dunks while baseball's tops, Joe Carter and John Smoltz hit home runs as far as champagne spraying goes.
"We are thrilled to again be a part of such a great event with the American Century Golf Championship," said Gary Heck, owner and president of Korbel Champagne Cellars. "Korbel is the perfect celebratory beverage, and it was great to have some fun with it during the third annual "Spray-off" event."
Football Players: Jerry Rice, Mark Rypien, John Elway, Jim McMahon, Vinny Testaverde, Trent Dilfer, Marshall Faulk, Trent Green, John Lynch, Matt Schaub, Sterling Sharpe, Marcus Allen
Basketball Players: Michael Jordan, Shane Battier, Jason Kidd
TV Personalities: Brian Baumgartner, Jimmy Roberts, Jack Wagner, Alfonso Ribeiro
Hockey Players: Jeremy Roenick, Brett Hull, Mike Eruzione, Dan Quinn, Joe Sakic, Mike Modano
Baseball Players: Bret Saberhagen, Joe Carter, Mark Mulder, Greg Maddux, John Smoltz
Other participants: Steve Spurrier, Dan Quayle, Michael Bolton, Todd Haley, Oscar de la Hoya, Lou Holtz, Joe Don Rooney, Gary LeVox, John O'Hurley, Jay DeMarcus, Bode Miller, Hank Haney
Complete list of participants:
1. Brian Baumgartner – Actor; 75ft
2. Mark Mulder – former MLB All-Star pitcher; 71ft
3. Mark Rypien – Former All-Pro NFL Quarterback; 64ft
4. Alfonso Ribeiro – actor; 63ft
5. Shane Battier – Forward, Houston Rockets; 62ft
6. Jerry Rice – Former NFL All-Pro Wide Receiver; 60ft
7. Vinny Testaverde – Former NFL All-Pro Quarterback; 60ft
8. Trent Dilfer – Former NFL All-Pro Quarterback; 60ft
9. Steve Spurrier – current coach of South Carolina; 60ft
10. Joe Sakic – Former NHL All-Star; 60ft
11. John Lynch – Former NFL All-Pro; 60ft
12. Joe Carter – Former MLB All-Star Outfielder; 59ft
13. Trent Green – Former NFL All-Pro Quarterback; 58ft
14. Jeremy Roenick – NHL All-Star, San Jose Sharks; 55ft
15. Dan Quayle – former vice president; 55ft
16. Michael Bolton – singer; 55ft
17. Matt Schaub – NFL All-Pro Quarterback; 55ft
18. Sterling Sharpe – Former NFL All-Pro Wide Receiver; 54ft
19. Todd Haley – Head Coach of Kansas City Chiefs; 52ft
20. Jim McMahon – Former NFL All-Pro Quarterback; 51ft
21. Mike Modano – NHL All-Star; 51ft
22. Oscar de la Hoya – legendary boxer; 50ft
23. Lou Holtz – former Notre Dame football coach; 50ft
24. John Elway – NFL Hall of Fame Quarterback; 46ft
25. Joe Don Rooney – Rascal Flatts; 46ft
26. Jason Kidd – NBA All-Star; 45ft
27. Marshall Faulk – Former NFL All-Pro Running Back; 44ft
28. Jack Wagner – Actor, The Bold & The Beautiful; 44ft
29. Dan Quinn – Former NHL Center; 44ft
30. Gary LeVox – Rascal Flatts; 44ft
31. John O'Hurley – actor; 44ft
32. Greg Maddux – Former MLB All-Star; 44ft
33. Jimmy Roberts – Sportscaster; 44ft
34. John Smoltz – Former MLB All-Star Pitcher; 43ft
35. Jay DeMarcus – Rascal Flatts; 42ft
36. Mike Eruzione – 1980 U.S. Olympic Hockey Captain; 39ft
37. Bret Saberhagen – Former MLB Pitcher/World Series MVP; 39ft
38. Brett Hull – Former NHL All-Star; 38ft
39. Michael Jordan – NBA Legend; 35ft
40. Marcus Allen – Hall of Fame NFL Running Back; 32ft
41. Bode Miller – Olympic Gold Medalist; 39ft
42. Hank Haney – PGA Golf Teaching Pro; 34ft