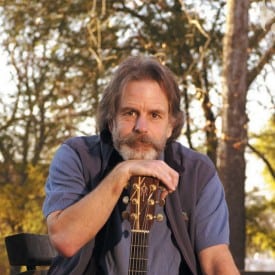 Bay Area legend Bob Weir of the former Grateful Dead joins the Marin Symphony orchestra for a unique collaboration. ACT ONE: Rock legend Bob Weir and a 41-member Marin Symphony re-invent hits of the Grateful Dead, re-arranged by Weir and noted composer-arranger Giancarlo Aquilanti.
ACT TWO: Selected Marin Symphony musicians and award-winning guest artists Quartet San Francisco (a popular favorite in past Marin appearances) join forces with Bob Weir to create a memorable second act – music that is improvised, imaginative, impassioned and impossible to forget when the show ends. A benefit for Marin Symphony performance and education programs.
Weir played rhythm guitar and sang a portion of the lead vocals through all of the Dead's 30-year career. In the late 1970s, he began to experiment with slide guitar techniques and perform certain songs during Dead shows using the slide. His unique guitar style is strongly influenced by the hard bop pianist McCoy Tyner and he has cited artists as diverse as John Coltrane, the Rev. Gary Davis, and Igor Stravinsky as influences. Weir was known for using periodic guitar moves during various times at Grateful Dead concerts to invigorate the crowd and to create musical momentum.
In 2002, Weir signed on as an official supporter of Little Kids Rock, a non-profit organization that provides free musical instruments and instruction to children in underserved public schools throughout the U.S.A. In addition to sitting on LKR's Honorary Board of Directors, Weir's Furthur Foundation awarded LKR a grant to expand their programming and reach more students who had not been receiving music education. (source: Wikipedia).