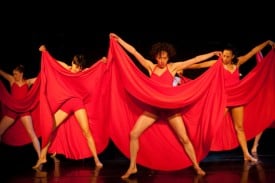 Labayen Dance/ SF, one of the Bay Area's most innovative contemporary dance companies, celebrates its 15th year with the world premiere of Carmina Burana: Revisited from Enrico Labayen, Isadora Duncan Awardee (The Izzies) for Outstanding Achievement in Choreography. Inspired by the Philippine matriarchal ritual of Tadtarin and set to Carl Orff's iconic score Carmina Burana, this piece explores female identities, ritual, traditions, role reversals and relationships through a contemporary lens. Carmina Burana: Revisited performances will be at Dance Mission Theater in San Francisco on July 23.
Carmina Burana: Revisited is loosely inspired by Tadtarin, the Philippine matriarchal ritual of sorority and fertility. During this annual three day festival leading up to the Feast of St. John the Divine, women reign supreme. A response to Philippine historical customs prohibiting women from fully participating and engaging in important cultural rituals and core historical experiences, Labayen's choreography, set to the music of Carl Orff's Carmina Burana, draws inspiration from history, myth and personal experience. Says choreographer Enrico Labayen, "Carmina Burana: Revisited has been one of the most difficult projects I have ever done. I am choreographing a contemporary version of a more than a century old ritual from my homeland and do not want it to be cultural misrepresentation or a reenactment. That will be a disservice to my own culture. I am not just creating a dance but I am recreating and redefining myself and what I believe in – in relationship to the contemporary world we all live in."
Labayen's choreography explores the diversity and complexities of female identities and their multiplicity of roles – to nurture and support, to carry and create, to defend the home and open it to others. His dancers fiercely transition from wild pulsations of protection and anger to solitude and introspection, exploring relationships, individual hunger, sadness and triumph. "The carriage of the body is very important to me," says Labayen. "No matter what you are doing, you maintain an internal dignity."
The culmination of Enrico Labayen's three-year observation, research, and documentation of women's issues in South East Asia, as well as the traditional movements and folkloric dances of the region, this world premiere explores primal female strengths and intuitive qualities.