Kids can now ride the Capitol Corridor train free to Neverland at Ferry Park in San Francisco to see the spectacular new stage production of JM Barrie's Peter Pan in the world's first 360° CGI theatre tent pavilion. Through September 5, Peter Pan is offering a special "Kids Ride Free on Weekends" discount in conjunction with The Capitol Corridor Joint Powers Authority (CCJPA). This discount provides families with a comfortable and relaxing way to enjoy their Peter Pan experience before they even reach the show.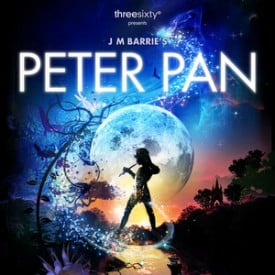 This weekend matinee discount package includes free admission to the pre-show "Into Neverland Behind-the-Scenes Tour" for each guest and special gift package for each order. To enjoy this special package deal, use the word "TRAIN" in the coupon box when purchasing your Peter Pan tickets. Tickets are limited, so it is advised to purchase this special ticket package now. The discount applies to up to two children who are accompanied by a full fare paying adult. To purchase and for more information, go to www.peterpantheshow.com/TRAIN.
Neverland in Ferry Park on the Embarcadero across from San Francisco's Ferry Building is the new family entertainment destination. With refreshments available on-site to ticket holders beginning two hours prior to show time, a behind the scenes "Into Neverland" tour, picnic tables and a free "100 Years of Peter Pan" exhibit; audiences begin the journey even before the performance commences. Theater patrons are encouraged to enhance their trip to Neverland with fare available at the Food Pavilion, but no food or beverage from outside is allowed in the park.
Peter Pan is the beloved classic story of the boy who won't grow up. This new production features 22 actors, stunning puppets, epic music, and dazzling flying sequences. The entire interior of the tent is lit with over 15,000 square feet of Hi-Resolution video so that both cast and audience are immersed in a CGI Neverland. When Peter and Wendy fly to Neverland the audience flies with them over 400 square miles of virtual London and beyond.