The Jewish Community Center of San Francisco (JCCSF) today announced the Ideas Programs for the 2010/11 season. Featured are a wide variety of writers, film directors, culinary celebrities, reporters, and political opinion makers. Highlights include discussions with renowned authors Joseph O'Neill and David Grossman, Mad Men creator and director Matthew Weiner, playwright/director Moisés Kaufman, legendary actor Michael Caine, and award winning Broadway composer/lyricist Stephen Sondheim.
The JCCSF located at 3200 California Street (at Presidio), has been serving the Bay Area since 1877 with programs that transform people's lives – mind, body and spirit. A home away from home for San Franciscans of all faiths and backgrounds, the JCCSF welcomes more than 5,000 guests each day, presenting them with world-class cultural events, a state-of-the-art fitness center, and hundreds of inspiring educational, recreational and social programs
Born to Run: The Running Secrets of the Tarahumara
Tuesday, Sept. 14, 7 pm
For centuries the reclusive Tarahumara Indians practiced techniques that allow them to run hundreds of miles without rest and chase down anything from a deer to an Olympic marathoner while enjoying every mile of it. Journalist Christopher McDougall learns their secrets, and shows that possibly everything previously thought about running is wrong. Tkts: $10 – $20
Speaking in Tongues: an exploration of bilingual education
Film and talkback with filmmakers Marcia Jarmel and Ken Schneider
Wednesday, Sept. 15, 7 pm
In today's world, is knowing English enough? This award-winning film begins with an ordinary first day of San Francisco public school kindergarten—except that the teacher speaks only Chinese and most of her students don't. The journey shows how speaking more than one language changes the students, their families, their communities, and maybe even the world. FREE PROGRAM: Reservations Required.
Rebecca Solnit
Thursday, Sept. 16, 7 pm
One of San Francisco's most provocative writers, Rebecca Solnit has investigated walking as a cultural activity (Wanderlust), and the decline of urban diversity following the rise of the computer industry (Hollow City) and loss (A Field Guide to Getting Lost). Now she reveals that when major disasters strike, people rise to the occasion with creativity and courage so profound they remember the calamity with joy. Tkts: $10 – $20
Yiyun Li
Monday, Sept. 20, 7 pm
Yiyun Li came to the United States in 1996 to study medicine and started writing two years later. The Washington Post praised her book, A Thousand Years of Good Prayers as "one of those rare short story collections where you find yourself reading one perfectly realized gem after the next." Her new novel, The Vagrants, Li was described by The New York Times as a "fully transporting vision." Tkts: $10 – $20
NPR's Scott Simon
Tuesday, Sept. 21, 7 pm
From Ground Zero in New York to ground zero in Kabul, NPR's Peabody Award-winner Scott Simon (Weekend Edition Saturday) has reported from all 50 states and every continent. He has interviewed the some of the world's most interesting people, from Mother Teresa to Ariel Sharon and Wyclef Jean. Simon has written nonfiction about sports and a novel about teenage girls during the siege of Sarajevo. His latest book is Baby, We Were Meant for Each Other: In Praise of Adoption. Tkts: $10 – $20
Through A Dog's Eyes with Jennifer Arnold
Monday, Oct. 4, 7 pm
Canine Assistants is a non-profit that trains and provides service dogs for people with disabilities and special needs. Founder Jennifer Arnold teaches dogs to make choices—as opposed to following commands—through kindness and encouragement rather than fear and submission, and her results are extraordinary. Tkts: $10 – $20
Gay, Straight and the Reason Why
Wednesday, Oct. 6, 7 pm
In 1991, Simon LeVay reported that he found a difference in brain structure between gay and straight men. Now the British neuroscientist and author of When Science Goes Wrong has a radical new theory. He claims sexual orientation arises in large part from biological processes prior to birth. LeVay has served on the faculties of Harvard Medical School and the Salk Institute for Biological Studies. Tkts: $10 – $20
Jonathan Lethem Chronic City
Friday, Oct. 8, 11 am
Newsweek named only one novelist to their list of 100 People for the New Century – Lethem (The Fortress of Solitude, Motherless Brooklyn). His prose bends post apocalyptic sci-fi, comedy, pop culture and autobiographical realism into utterly original fiction. Lethem's latest, Chronic City, is set in the Upper East Side, where a pair of society misfits, modern malaise and a runaway tiger collide. Tkts: $10 – $20
The Quiet Heroism of Rick Hodes
Sunday, Oct. 10, 7 pm.
Dr. Rick Hodes arrived in Africa more than two decades ago to help the victims of a famine, and twenty-eight years later, he is still there. He found his calling in Rwandan refugee camps and Mother Teresa's mission in Addis Ababa, and with Ethiopian Jews emigrating to Israel. Not only did he care for the sickest children in one of the world's poorest countries, but he adopted five of them. His remarkable story is both humbling and life-changing. Tkts: $10 – $20
Joseph O'Neill
Tuesday, Oct. 12, 7:00 pm
O'Neill's PEN/Faulkner Award-winning novel exploring post-9/11 New York and London, Netherland was described by The New York Times as "the wittiest, angriest, most exacting and most desolate work…about life in New York and London after the World Trade Center fell." His earlier work, Blood Dark Track, is a family memoir based on his Irish and Turkish grandfathers, both imprisoned during World War II. Tkts: $10 – $20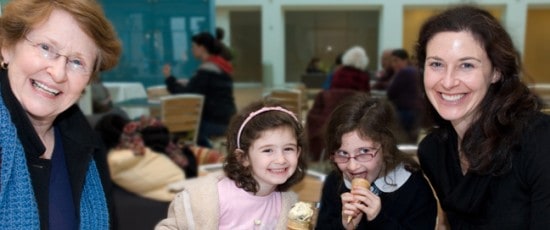 Mad Men's Matthew Weiner with Tim Goodman
Wednesday, Oct. 13, 7 pm
Matthew Weiner is the creator and executive producer of the award–winning Mad Men, an AMC original series, now in its third season. He wrote the pilot, and both write and directed the second season finale. Matthew Weiner was also executive producer and writer on The Sopranos, the critically acclaimed HBO series. He appears in conversation with San Francisco Chronicle popular television critic Tim Goodman. Tkts: $10 – $35
A.S. Byatt
Monday, Oct. 18, 7 pm
A.S. Byatt could be the patron saint of bookworms. In her novels–including the Booker-Prize-winning Possession: A Romance Still Life, A Whistling Woman, and The Children's Book — reading and writing usually prove a matter of life, death, and freedom. Byatt will reveal how characters are invented, and how they relate to the beliefs of the world in which they find themselves. Tkts: $10 – $25
David Grossman – To the End of the Land
Wednesday, Oct. 20, 7 pm
One of Israel's most acclaimed authors returns to the JCCSF with the book that is considered his masterpiece. His novel is a rich imagining of a family in love and a wrenching illustration of the cost of war. "A book of overwhelming power and intensity." – Paul Auster Tkts: $10 – $35
Moisés Kaufman
Thursday, Oct. 21, 7 pm
The Laramie Project writer and director Moisés Kaufman is the founder and Artistic Director of the award winning Tectonic Theater Project. He directed Marlowe's Eye by Naomi Iizuka , the world premiere of Now Be Witness Again, The Nest, Women in Beckett, and A Remarkable Stillness, and wrote the critically acclaimed, The Three Trials of Oscar Wilde. Kaufman appears in conversation with Berkeley Rep Artistic Director Tony Taccone. Tkts: $10 – $20.
(The Laramie Project and The Laramie Project: Ten Years Later will be presented by the Tectonic Theater Project in Kanbar Hall on October 22 and 23)
The Provocative Lori Gottlieb – Settling for Mr. Good Enough
Monday, Oct. 25, 7 pm
Lori Gottlieb is the author of Settling for Mr. Good Enough, a provocative look at modern dating and marriage. In her 2008 article in The Atlantic, out of which the book grew, Lori Gottlieb said the unthinkable: maybe single women needed to stop chasing the elusive Prince Charming and instead go for Mr. Good Enough. Gottlieb is the author of three other works of nonfiction, a frequent commentator for NPR's All Things Considered and a nationally published print journalist. Tkts: $10 – $20
Ian Frazier on Siberia
Wednesday, Oct. 27, 7 pm
In Travels in Siberia, New Yorker writer Ian Frazier (The Great Plains, On the Rez, Dating your Mom) trains his eye for unforgettable detail on Siberia, and delivers an account of Russia since the end of the Soviet Union and a personal reflection on the all-around amazing aspects of Russia, a country which, to Frazier, still somehow manages to be funny. Tkts: $10 – $20
Cakewalk with Kate Moses
Monday, Nov.1, 7:00 pm
Kate Moses' insatiable appetite for sugar was the key ingredient to surviving a tumultuous sixties-era childhood. Raised by an emotionally stunted, sometimes cruel father and an erratic, frustrated-artist mother, Moses found refuge in the kitchen. Hear her funny, bittersweet story, and taste home-baked goodies—baked just for you by Kate. Tkts: $10 – $20
2010 BookFest Keynote Event
Stephen Sondheim
Saturday, Nov. 6, 7 pm
He's won more Tony Awards than any other composer, plus Grammys, an Oscar and a Pulitzer Prize. His name is synonymous with musical theater (West Side Story, Gypsy, Sweeney Todd). Now, as he celebrates his 80th birthday, he has published a complete collection of his lyrics (1954 – 1981) and offers a rare, behind-the-scenes tour of his professional and personal life. In discussing his book, Finishing the Hat, Sondheim pulls back the curtain on his relationship with mentor Oscar Hammerstein II and his collaborations with five decades of the stage and screen's biggest stars. The evening will be filled with anecdotes rich in history, unique insights and intimate details.
Tkts: $45 – $65
Keynote PASS: $125 includes premium seating – plus BookFest Day Pass and exclusive cocktail hour with Stephen Sondheim, at 6 pm
Bookfest 2010
Sunday, Nov. 7 12:30 – 6 pm
Book lovers are invited to meet and mingle with popular and award-winning authors in a full day of conversations, book talks and signings. This is an opportunity to gain perspective on the writers' process and share their passions. Each of the day's many sessions allows time for questions and to meet the authors at book signings. Authors include Gregory Levey, Jennifer Gilmore, Myla Goldberg, Allegra Goodman, Nicole Krauss, Yann Martel, Sam Lipsyte, Gary Shteyngart, and Ayelet Waldman. Check online for updates on guest authors at www.
Tkts: $5 & $7
Simon Wiesenthal: The Life and Legends of a Nazi Hunter with Tom Segev
Wednesday, Nov. 10, 7 pm
Legendary "Nazi hunter" Simon Wiesenthal was a Holocaust survivor who dedicated his life to capturing and punishing Nazis for their war crimes against Europe's Jews. A hero in the eyes of many, he was also attacked for his unrelenting pursuit of the past that others preferred to forget. Esteemed Israeli journalist and historian Tom Segev reveals the fascinating truth behind Wiesenthal's life, including his role in the capture of Adolf Eichmann, his controversial investigative techniques, and the nature of his rivalry with Elie Wiesel. Tkts: $10 – $20
An Evening with Michael Caine
Tuesday, Nov. 16, 7 pm
From his humble upbringing in poverty-stricken Sussex, England, Sir Michael Caine went on to make more than 70 films and be knighted by Queen Elizabeth. Combined with juicy, offbeat anecdotes about life among Hollywood's glitterati. he expresses surprise and delight that the last several decades have been filled with great roles from Alfie to Harry Brown. Ticket prices include Michael Caine's newest book, The Elephant to Hollywood. Tkts: $35 – $45
Anne Lamott
Monday, Nov. 29, 7 pm
In Imperfect Birds Anne Lamott (Rosie, Operating Instructions, Bird by Bird) continues the story of Rosie, an accomplished Marin high school student and athlete who is also a serious substance abuser. She taps into teenage drug culture to create a vivid, unsettling portrait of a family in crisis and reminds us it's not a good idea to be best friends with your child. Tkts: $10 – $20
Introducing Pulp History — Never before told tales of real heroism
Thursday, Dec. 2, 7 pm
Written by Salon editors David Talbot and Gary Kamiya and illustrated by internationally recognized underground artists Spain Rodriguez and Jeffrey Smith, this new Pulp History series pulls together the best parts of comic books, popular nonfiction, and graphic novels in an irresistible new format. Writers and illustrators show how Churchill's top-secret Organization was created to sabotage and subvert Hitler, and much more. Tkts: $10 – $20
French/Jewish luncheon with Joan Nathan The Queen of Jewish cooking
Tuesday, Dec. 7, noon
The Hayes Street Grill, 320 Hayes St.
Joan Nathan has written ten cookbooks including the acclaimed Jewish Cooking in America, and hosts a PBS series of the same name. Her latest book focuses on Jewish cooking in France. She takes her fans inside kitchens of Paris, Alsace and the Loire Valley and examines the influences of Sephardic Jewish immigrants, whose flavors and elegance have infiltrated contemporary French cooking. Tkts: $50 – $65
Mary Roach
Tuesday, Dec. 14, 7 pm
Best-selling author Mary Roach (Stiff and Bonk) explores the irresistibly strange universe of space travel and life without gravity. How much can a person give up? Is it possible for the human body to survive a bailout at 17,000 miles per hour? How much weirdness can one take? Roach takes us on a surreally entertaining trip into the science of life in space and space on Earth. Tkts: $10 – $20
The Man Who Killed Pluto
Thursday, Jan. 13, 7 pm
Mike Brown, a professor of planetary astronomy at Caltech, is the self-described geeky scientist who, in his effort to discover the tenth planet, ended up demoting everyone's favorite planet, Pluto, resulting in a firestorm of public outrage. Brown introduces complex scientific concepts and gives a moving, funny, and engaging first-person perspective on what it was like to discover a planet only to lose it in the process. He inspires us to think more deeply about our place in the cosmos. Tkts: $10 – $20
Re-examining the Photography of Roman Vishniac (Maya Benton, Adjunct Curator, ICP)
Tuesday, Jan. 18, 7 pm
Vishniac's photos are the most widely recognized visual record of Eastern European Jewish culture before it was destroyed in the Holocaust. His images shape our memory of that vanished world. Working with the International Center of Photography, Maya Benton uncovered thousands of unpublished photos that offer new insight on pre-Holocaust life. Benton shares her recent discovery, including moving film footage never before seen. Introduction by Shana Penn, Executive Director, Taube Philanthropies. Tkts: $10 – $20
Rabbi Yehuda Berg
Tuesday, Jan. 25, 7 pm
Along with his parents and brother, Rabbi Yehuda Berg (The Power of Kabbalah) is credited with bringing Kabbalah, that rarefied branch of Judaism out of the shadows and onto the red carpet. Madonna, Demi Moore, Roseanne Barr, and Donna Karan all consider the Kabbalah Center of Los Angeles their spiritual home. Rabbi Berg discusses what the center has to offer, and its appeal. Tkts: $10 – $20
When Jews Do Bad Things With Dr. Erica Brown
Wednesday, Jan. 26, 7 pm
Madoff. Spitzer. Abramoff. This is the first time in Jewish history that a former prime minister and a president of Israel have been convicted of crimes. Why are so many high-profile Jews in the news for all the wrong reasons? Brown takes stock of what scandals mean for Jews as a people and offers practical ways to restore honor and dignity to the community by raising and adhering to a higher ethical bar. Tkts: $10 – $20
Lectures and conversations scheduled from February through June will be announced towards the end of the year. For literary insight by Director of Lectures and Literature Barbara Lane, visit twitter.com/blanejccsf.
Programs are made possible through generous community support, enabling the JCCSF to provide free and low-cost programs as well as generous financial assistance – ensuring that the Center is accessible, welcoming and nurturing to all. For more information about the JCCSF, visit www.
Subscription series tickets for the 2010/11 Arts & Ideas Season are now available, and single tickets go on sale August 23. To order, call the JCCSF Box Office at 415/292-1233. For additional information, visit www.