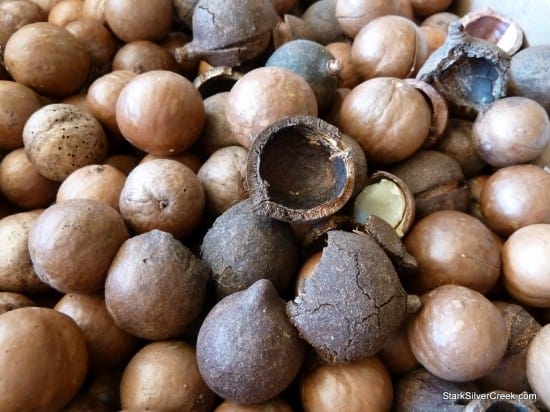 Any trip to Hawaii is guaranteed to leave you with boxes, cans and plastic bags of roasted Macadamia Nuts. They are delicious on their own, just lightly roasted and salted.
However, if you pause a moment before popping another round piece of nutty goodness into your mouth, your imagination may take flight with the possible ways you can incorporate Macadamia Nuts into new recipes and old favorites.

For example, just a couple of days ago, I enjoyed a variation of Thai cashew chicken made with Macadamia Nuts.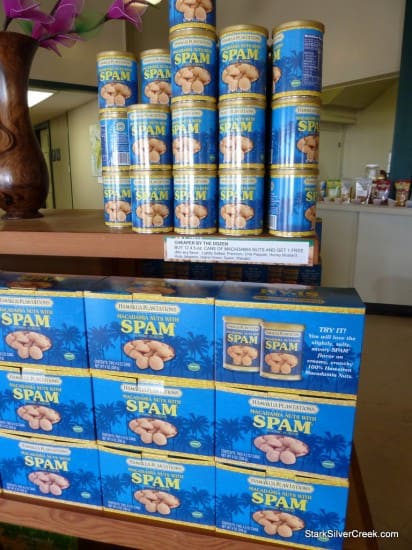 Here are some recipes courtesy of the Hamakua Plantations Macadamia Nut Company that I visit while in Hawaii. I've also included some inspirations for "Loni's California Kitchen" variations. All of these recipes call for roasted Macadamia Nuts. Great if they are not salted in any way so you can control the salt in the recipes. Raw Macadamia Nuts like raw almonds are not as crunchy, buttery and nutty.
Aloha Granola
(courtesy of a Hamakua Plantations 1.25 pound bag of roasted Macadamia Nuts)

3 cups old-fashioned rolled oats
1 cup macadamia nuts, chopped
1/2 cup shredded coconut
1/4 cup butter
6 T. honey
1 1/2 cups dried fruits (ie. pineapple, mango, papaya, chopped)
2 cups banana chips, rough chopped

Mix oats, nuts, and coconut in a large bowl. Melt butter and honey in a saucepan and pour over oat mixture. Mix thoroughly and spread evently on a jelly roll pan. Bake at 325 degrees for 15 minutes. Stir and then bake an additional 15 minutes or until golden brown. Cool completely, then stir in dried fruits and banana chips.
Loni's California Kitchen Variation:
– I am not crazy about shredded coconut so I would probably leave out that ingredient.
– Knowing me, I would test out this recipe with lower amounts of butter and see what happens. Macadamia Nut already has a good amount of healthy fat in it.
– Honey I love, I would even try this with some real maple syrup as well.
– Dried fruit is delicious. I would try to hunt down some that was not candied so that the real flavors of fruit would shine.
– I am not crazy about banana chips either. If you love them, by all means include them. I may try including some additional dried fruits such as cherries or apricots. I may also test it with a Nature's Path cereal (Flax Plus or Multigrain) or a Kashi cereal.
– For some more crunch, I may add a harder nut into the mix as well. Some types I would consider are cashews, almonds, and hazelnuts.
White Chocolate Macadamia Nut Cookies with Blueberries
(courtesy of a Hamakua Plantations 1.25 pound bag of roasted Macadamia Nuts)

1/2 cup butter
3/4 cup sugar
1 egg
1 tsp. vanilla
1 1/4 cup flour
1/2 teaspoon baking soda
1/2 teaspoon salt
1 cup white chocolate chips
1 cup macadamia nuts, chopped
1 cup dried blueberries

Cream butter and sugar until light and fluffy. Add egg and vanilla and continue to mix until belended. Stir in flour, baking soda and salt and mix until just blended. Fold in white chocolate chips, macadamia nuts and dried blueberries and mix until all ingredients are well incorporated. Drop by teaspoonfuls onto a greased cookie sheet. Bake in a 375 degree oven for 8-10 minutes or until golden brown. Makes approximately 3 dozen.
Loni's California Kitchen Variation:
– I am not a big fan of white chocolate, so of course I would try a semi-sweet chocolate or a mixture of dark and semi-sweet. For true decadence, I may even buy a large bar and cut it into big chunks.
– Instead of dried blueberries, I may also try cherries as well
– For a lower fat version, I would substitute some of the butter in this recipe with non-fat plain yogurt.
– Instead of white flour, I may try whole wheat or substitute some of the flour with oats.
Nadine's Macadamia Nut Encrusted Mahi Mahi
(courtesy of the Hamakua Plantations Visitors' Center)

Mahi Mahi filets
Salt
Pepper
Flour
1 egg, beaten
Macadamia Nuts (finely chopped)

Salt and Pepper Mahi Mahi.
Dust with flour.
Dip in egg wash
Roll in finely chopped Macadamia Nuts

Bake at 350 degrees Fahrenheit for 30 minutes or until done.
Loni's California Kitchen Variation:
– I don't think I would do anything different to this recipe. It is so simple. The only thing may be to try a different fish such as sea bass.
Macadamia Nuts would also be a great way to dress up any salad. I will be sharing a great salad recipe I accidentally created while on the Big Island of Hawaii that is absolutely delicious.