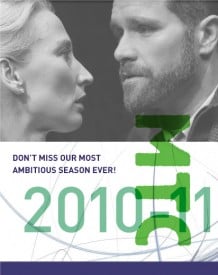 Marin Theatre Company announced that playwright Frances Ya-Chu Cowhig has joined its artistic staff for the 2010-11 season through the National New Play Network Playwright Residencies program. She is one of three NNPN playwrights this season nationwide. Her play Lidless, winner of MTC's 2010 David Calicchio Emerging American Playwright prize, will be published by Yale University Press, and will be produced in the UK's High Tide Festival and West Virginia's Contemporary American Theatre Festival.
"We are honored to welcome Frances to MTC for the 2010-11 season. She is one of the most exciting new voices in the American theater and we are delighted to introduce her to Bay Area audiences. She will be an invaluable part of our staff in the coming year. We hope this is the beginning of a long and lasting relationship," said Artistic Director Jasson Minadakis.
As part of her residency, Ms. Cowhig will contribute to MTC in several areas. Lidless will receive a reading through MTC's New Works staged reading series and her new play Sunspots will receive a workshop during the 2010-11 season. She will read scripts submitted for the 2011 Sky Cooper New American Play Prize and David Calicchio Emerging American Playwright Prize, as well as plays under consideration for MTC's subscription season and play development series. As part of MTC's Expanded Programs, she will teach drama classes in Marin in-school and after-school programs and conduct student matinee workshops.
Frances Ya-Chu Cowhig's plays have been developed at the Hedgebrook Women Playwrights Festival, Seattle Repertory Theatre, PlayPenn, the Alley Theatre, Ojai Playwrights Conference, the Playwright's Foundation, and Yale Repertory Theatre. Other honors include the Yale Drama Series Award, the Keene Prize for Literature, a Glimmer Train New Writer's Award, a commission from South Coast Rep, and grants from the MacDowell Colony, the Ragdale Foundation, Santa Fe Art Institute, the Playwright's Center, and Interact Theatre. She received her MFA in Writing from the James A. Michener Center for Writers at University of Texas at Austin, her BA in Sociology from Brown University, and a certificate in Ensemble Created Physical Theatre from the Dell'Arte International School of Physical Theatre. Frances was raised in Philadelphia, Northern Virginia, Okinawa, Taipei, and Beijing.
MTC New Works Series presents Lidless by Frances Ya-Chu Cowhig, date TBA
Fifteen years ago, Alice was an interrogator at Guantanamo. The beta-blockers she took during her service have left holes in her memories, a fact she welcomes so she can get on with the new life she has created with her husband and daughter. When Bashir, a former detainee dying of liver disease, arrives to confront Alice, she can't remember ever having seen his face. He refuses to let Alice deny her past, demanding shocking payment for the damage she wreaked on his body and soul during their interrogations. Lidless is a story about embracing one's true nature and the quest to re-humanize a world losing sight of its common humanity.