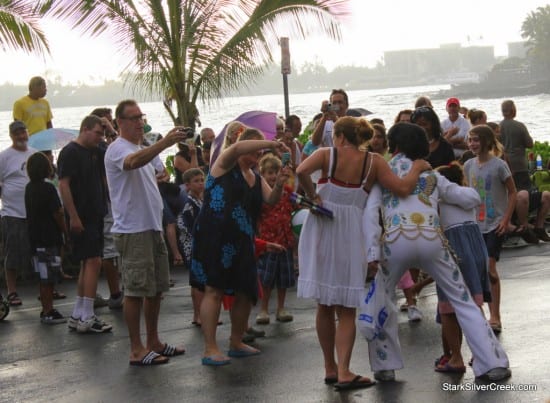 While StarkSilverCreek contributor Cy Ashley Webb was celebrating Independence Day to the tune of the San Francisco Symphony at Shoreline, Clint and I spent our Fourth of July on the Big Island watching Elvis walking down Alii Drive.
Yes, the King himself was part of the 15th Annual Kailua-Kona Independence Day Parade organized by the Kailua-Kona Community Parade Association. At this year's parade, United States Senator Daniel K. Inouye was the Grand Marshal.
The parade participants assembled in Kona Kekua'okalani Gym and started down the traditional route from Kuakini Hwy to Palani Road, then onto Ali'i Drive to the Coconut Grove Marketplace.
I was stationed at the end of the parade, waiting in anticipation for the arrival of the start of the parade. Just before the parade arrived on Ali'i Drive, it started to rain and many of the onlookers had scramble for shelter along the many shops and restaurants.
Fortunately, by the time the parade arrived, the rain had petered down to a drizzle.
Here are the shots I snapped of the event.