Cal Performances kicks off its 2010/11 season on Sunday, September 26 with its first Fall Free for All, a full day of free performances on the University of California, Berkeley campus. More than a dozen performances will be given by a diverse line-up of artists, including the Kronos Quartet, Linda Tillery and the Cultural Heritage Choir, Mark Morris Dance Group, Melody of China, John Santos Sextet, Pacific Mozart Ensemble, Word for Word, Teslim with Kaila Flexer and Gari Hegedus, Brazilian guitarist Sergio Assad, Diamano Couras West African Dance Company, Philharmonia Baroque Orchestra Ensemble, singer/musician Melanie DeMore and UC Jazz Ensembles.
Cal Performances inaugural Fall Free for All will feature 13 45-minute performances from 11:00 a.m. to 6:00 p.m. at Zellerbach, Wheeler and Hertz halls and on a tented stage on Lower Sproul Plaza. The day offers a preview of the broad range of performing artists, residencies and collaborations audiences can expect to experience throughout the 2010/11 season.
"We are throwing open our doors to all who live in the Bay Area. It's our gesture to the community, a way of welcoming everybody and introducing our new season" explains Director Matías Tarnopolsky. "To those who have never been to Cal Performances, we say, 'Come and sample our rich and diverse line-up of artists.' To longtime Cal Performances patrons, we say, 'Bring your friends and neighbors.' To performing arts lovers of all ages: 'Enjoy this day of music, dance and theater.'"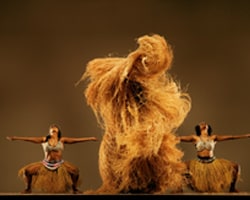 Some of the planned events are interactive. Mark Morris Dance Group (MMDG) will give audience members the opportunity to experience movement with company members, as they discuss and learn a section of Mark Morris's work Looky (Looky will be featured on the MMDG program at Cal Performances, September 30–October 3. Singer/musician/conductor Melanie DeMore's "Pounding for Peace" is a community sing which will include teaching Gullah Stick Pounding combined with singing civil rights songs, spirituals and songs of change.
Additional Fall Free for All festivities will be centered on Lower Sproul Plaza with opportunities to talk with many of the artists, an instrument petting zoo and outdoor performances by UC Berkeley's Student Musical Activities vocal and instrumental ensembles; food and soft drinks will be available for purchase.
ZELLERBACH HALL
Fall Free for All will commence with an 11:00 a.m. concert at Zellerbach Hall by a renowned musical ensemble with a longtime association with Cal Performances, the pioneering Kronos Quartet. Celebrating 30 years of commitment to expanding the range of the string quartet, the ensemble's program will include 12/12 by Café Tacuba (arranged by Osvaldo Golijov); Aleksandra Vrebalov's Sketch from a Balkan Notebook; Raz Mesinai's Crossfader; Maria Schneider's String Quartet No. 1: Third Movement; and Bryce Dessner's Aheym (Homewa will perform Kumba, the Orphaned Child, a Cinderella story told through song, dance and percussion. The company was founded by Zak Diouf and Naomi Washington Diouf in 1975 for the preservation, education, and appreciation of traditional West African music, dance, theater, and culture. (Naomi Washington Diouf has taught African Dance at Berkeley/Oakland AileyCamp at Cal Performances since 2003 and many years at Berkeley High School). Company members of Mark Morris Dance Group, another celebrated troupe with a deep associations with Cal Performances, will take the stage at 3:00 p.m. to lead a special interactive experience focusing on the choreography of Looky, which will receive its West Coast premiere at Zellerbach Hall September 30–October 3. Audience members will join the dancers on stage to learn excerpts from Looky and dance along with the Disklavier music that accompanies the work. Oakland's Grammy-nominated Linda Tillery and the Cultural Heritage Choir will perform at 5:00 p.m. Established in 1992, the mission of the percussion-driven, vocal ensemble is to preserve and share the rich musical traditions of African American roots music. Members of the ensemble have been teaching artists for Classroom for Cal Performances for more than eight years.
HERTZ HALL
Four concerts will take place at Hertz Hall, beginning with a solo performance at 1:00 p.m. by guitarist Sergio Assad (sfcm.edu/faculty/assad.aspx), best known by Cal Performances' audiences as one half of the highly regarded Brazilian-born guitar duo with his brother Odair. A professor at the San Francisco Conservatory, Assad has played a major role in creating and introducing new music for the guitar, as well as re-workings of folk, jazz and Latin music of almost every style. Pacific Mozart Ensemble, founded in 1980, delivers passionate, expert and engaging choral performances of music from Brahms to the Beach Boys. The group's 3:00 p.m. concert is titled 21st Century Music for a 21st Century Vocal Ensemble and features music by Dave Brubeck, Sweet Honey in the Rock, Paul Simon, Arvo Pärt, and many others. An ensemble of the illustrious Philharmonia Baroque Orchestra will perform Haydn's Quartet for Oboe and Strings in C major and String Quartet in E-flat major, Op. 64, No. 6; and Mozart's Quintet for Oboe and Strings in C minor at 5:00 p.m. "An ensemble for early music as fine as any in the world today" (Los Angeles Times) has performed on many occasions at Cal Performances.
WHEELER HALL
Teslim ("commit" and "surrender" in Turkish) returns to Cal Performances when Kaila Flexer (violin) and Gari Hegedus (oud, Turkish saz and Greek laouto) give a 12:00 p.m. noon concert at Wheeler Hall. The program will feature Greek, Turkish and Sephardic music, much of it original compositions. Following at 2:00 p.m., Word For Word, a San Francisco professional theater company that stages short stories, performing every word the author has written, will perform a Gary Soto's Frankie the Rooster. The company's mission of telling good stories with simple and elegant theatricality has earned them an enthusiastic following. At 4:00 p.m., Melody of China will perform Chinese classical, folk and contemporary music using traditional instruments such as the sheng (mouth organ), pipa (Chinese lute), ruan (moon guitar) and liuqin (Chinese mandolin), among many others. The troupe was begun in 1993 by professional musicians from prestigious music conservatories in China. On the program will be music from a variety of Chinese cultures including Cantonese, Xinjiang and Yunnan works. Members of the group have been teaching artists for Cal Performances in the Classroom.
LOWER SPROUL PLAZA
A stage within a tent on Lower Sproul Plaza will welcome conductor/singer/musician Melanie DeMore who will lead a community sing, along with teaching the basics of Gullah stick pounding at 12:00 p.m. noon. Various rhythms will be combined with singing civil rights songs, spirituals and songs of change. The Gullah are African Americans who live in the coastal plain and the Sea Islands regions of South Carolina and Georgia where slaves brought remnants of West and Central African cultures to the area, including stick pounding as a way of communicating. A founding member of the Cultural Heritage Choir and California Artist in Residence with the Oakland Youth Chorus for ten years, DeMore teaches music at St. Paul's School in Oakland and is a teaching artist for Cal Performances in the Classroom. Sticks will be provided. Students of the UC Jazz Ensembles (ucjazz.berkeley.edu) will perform a concert of mixed jazz styles at 2:00 p.m. in the tent. UC Jazz is one of three groups, including the Cal Band and UC Choral Ensembles that comprise Student Musical Activities (SMA), the department of extramural campus musical groups. Oakland-based percussionist John Santos is an educator, composer and producer who uses traditional Latin American forms and instruments in combination with contemporary music. Born in San Francisco, Santos was raised in the Puerto Rican and Cape Verdean musical traditions of his family and is a member of the Latin Jazz Advisory Committee of the Smithsonian Institution. His sextet's 4:00 p.m. program will be announced from the stage.
Throughout the day, SMA's Men's Octet, The California Golden Overtones, the Cal Band and other vocal and instrumental ensembles will serenade festival-goers.