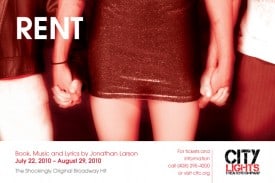 City Lights Theater Company announced that they are bringing the Broadway hit Rent to San Jose. This fresh and daring spin on Puccini's La Bohème follows the triumphs and tragedies of eight young Greenwich Village bohemians. Mark, Roger, Mimi, and their urban tribe of friends and lovers search for inspiration, passion, and identity in a world rife with heartache and pain. As the spectre of the AIDS virus looms and threatens to cut short their time together, this small band of artists and thinkers finds beauty in the grit and grime of Manhattan and comes to realize that there is, truly, "no day but today."
This Tony Award-winning rock musical had a 12 year run on Broadway, a hit movie in 2005 with superstars such as Rosario Dawson and Taye Diggs, has been performed internationally in 23 languages, had a phenomenal 2009 US tour that ended this February.
The musical will be directed by Lisa Mallette, now in her ninth season at City Lights and sixth as Executive Artistic Director. The cast features Spencer Williams (The Great American Trailer Park Musical, Bat Boy the Musical) playing Mark who is an independent film maker and who is roommates/best friends with Roger played by Brian Palac a song writer with HIV. Mimi, an exotic dancer who is also diagnosed with HIV is played by Megan Woodruff (Once on This Island, Fiddler On The Roof). Angel the infamous drag queen is played by Adam Barry and our gay philosopher Tom is being played by Jami James. The lesbian lawyer Joanne is played by Jacqui Elliott and her partner Maureen who is a performance artist is played by Nicole Julien. Benny, the landlord of the building that this band of bohemians resides in is played by Matt Bariletti.
Other cast members include: Ashley Bawdon (Ensemble & U/S Maureen), Michelle Ianiro (Ensemble & U/S Joanne), Jeannette Zelaya (Ensemble & U/S Mimi), Tony Butler (Ensemble), Allie Glatt (Ensemble), Cory Jones (Ensemble), Everardo Leon (Ensemble), Shannon Stowe (Ensemble).
City Lights Theater Company of San Jose's production of Rent opens on July 24 and is scheduled to run through August 29, 2010.