Executive Director Jim Gardia and Artistic Director Brooke Knight announced that Broadway By the Bay will make their new home at the historic Fox Theatre in Redwood City beginning with their 2011 season.
"We are thrilled to be moving to the historic Fox Theatre and to not only be a part of the revitalization of arts and culture in downtown Redwood City, but to also introduce Broadway By the Bay to a whole new audience" said Gardia. "Our patrons, both loyal and new, are going to love the convenience of the location and the ability to park, dine and enjoy one of our wonderful musicals at this beautiful theatre."
Built in 1928 as vaudeville and movie house, the Fox Theatre has had a long and distinguished history, hosting several of the entertainment industry's greatest performers including Tony Bennett, Tom Jones, The Indigo Girls, Neil Young, Etta James, Melissa Etheridge, Itzhak Perlman and Bill Cosby. In 2002, the 1400-seat, art deco-style theatre underwent a complete renovation to restore its grand and distinctive architecture. The venue now features a bar and concession areas on two levels as well as a state-of-the-art sound system. In 1993 the Fox Theatre was placed on the National Register of Historic Places.
The Fox Theatre is located in the heart of downtown Redwood City and in close proximity to a wide selection of popular restaurants and bars as well as several nearby public parking areas – making it convenient for theatergoers to enjoy pre-show dining or post-show libations.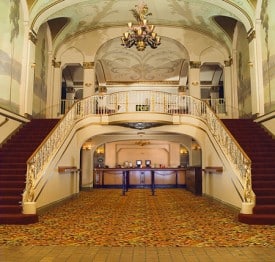 "We're very happy to welcome Broadway By the Bay to downtown Redwood City" said Jeff Ira, Redwood City Mayor "This is a great fit for the Fox Theatre, a brilliant addition to our downtown, and will offer yet another reason for people from throughout the Peninsula to visit and enjoy downtown Redwood City."
Broadway By the Bay continues its 45th Anniversary season with the funny and delightfully touching classic LA CAGE AUX FOLLES (September 16 – October 3). The 45th season closes with the West Coast premiere of BROADWAY BY THE YEAR (November 18 – 21), a musical and historical snapshot of the Great White Way highlighting songs from Broadway shows of 1930 (Girl Crazy, Strike Up the Band and The New Yorkers) and 1964 (Funny Girl, Hello Dolly and Fiddler on the Roof). The 2011 season will be announced later this year. The 2011 season will be announced later this year.
With numerous awards to their name, including over 40 Theatre Critics Awards, Broadway By the Bay has garnered acclaim throughout the San Francisco Bay Area as a destination for professional-quality musical theatre. The Company produces three full-scale musicals and one intimate composer/lyricist series each season.
Lauded for its efforts in education, Broadway By the Bay's Youth Theatre Conservatory – for ages 4-17 – gives younger students solid foundations in acting, singing and dancing for the musical theatre. For those 18 and over, Broadway By the Bay's Musical Theatre Conservatory offers professional classes to adults of all ages. Students aspiring to achieve a professional level of performance skills are taught by instructors who have excelled in their specialties. Musical Theatre Conservatory's intensive summer program is offered in conjunction with Notre Dame de Namur University in Belmont.