With one show on Broadway, another headed to London, and a new season of ambitious plays on the way, Berkeley Repertory Theatre pauses for a moment to salute Susan Medak, who has served as managing director of the nonprofit for 20 years. During those decades, Berkeley Rep – and Ms. Medak – have become national leaders in innovative theatre.
Now prominent community leaders toast and roast "Susie" in honor of her anniversary:
This short video includes humorous and loving commentary from her partner in crime, Artistic Director Tony Taccone, as well as legendary performer Rita Moreno, renowned producer Tom Hulce, local politicians like Tom Bates and Loni Hancock, and philanthropists such as Marjorie Randolph of Walt Disney Studios and Bernard Beaudraux of Target Corporation.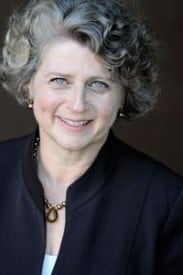 Susan Medak has guided the Theatre through tough times and boom times, forging on after fires and floods. On her watch, Berkeley Rep has grown its budget threefold by repeatedly setting new box-office records and attracting support from generous individuals, influential firms, and philanthropic foundations. She helped lead Berkeley Rep to a Tony Award for Outstanding Regional Theatre in 1997 and supervised construction of the 600-seat Roda Theatre and Berkeley Rep's School of Theatre in 2001. Ms. Medak's efforts have ensured that local residents have access to adventurous and intelligent plays, and she has worked to bring these plays to audiences across America through tours, co-productions, and other partnerships. That commitment has come to fruition in the last five years as five shows developed at Berkeley Rep have reached Broadway. From The Woman Warrior to American Idiot, Susan Medak has been one of the secrets behind Berkeley Rep's success.
Locally, Ms. Medak played a key role in the creation of the Downtown Arts District, which has helped revitalize Berkeley and become a model for cities across America. She serves as president of the Downtown Berkeley Association and chairs the Down town Berkeley Business Improvement District. She is also the founding chair of the Berkeley Arts in Education Steering Commit tee for Berkeley Unified School District and the Berkeley Cultural Trust.
Nationally, Ms. Medak has become one of the most respected leaders in the industry. She is president of the League of Resident Theatres (LORT), the management association that represents 75 of the nation's largest nonprofit theatres. She served two terms on the board of Theatre Communications Group, including three years as the organization's treasurer, and sat on panels for the National Endowment for the Arts and the Massachusetts Arts Council. Ms. Medak also serves on the faculty of Yale School of Drama, and has mentored countless young professionals over the years.
On her anniversary, the Berkeley Rep asked Ms. Medak a few questions about her success:
Q. How did you get from your hometown, Lincolnwood, Illinois, to show business?
A. From the time I was little – maybe it was in my DNA – I wanted to be an actress. There was just something about the alchemy in the theatre. When you experience great theatre with a great audience, it's so exhilarating, so charged. You can't graph that, but you know it when you feel it. I really thought acting would be my way of making the world a better place. Luckily, I found out early on that there were other ways for me to do that. I discovered that I could be good at what I do, work in the theatre, contribute to the field, and maybe make a wider impact.
Q. How did you end up in Berkeley?
A. I began my career working for the Guthrie Theatre in Minneapolis and then at Milwaukee Repertory Theatre. Next I served as managing director of People's Light & Theatre Company in Philadelphia and Northlight Theatre in Evanston, Illinois. When I arrived at Berkeley Rep in 1990, I took over for Mitzi Sales, a force of nature who is the only other managing director this theatre ever had. Sharon Ott was artistic director at the time, and Tony Taccone was the associate artistic director. He took over as AD when Sharon departed in '97.
Q. Why do you think you and Berkeley Rep have worked so well together?
A. If we have been successful, it's been in part because we produce what we care about, and what we care about turns out to be an aesthetic that is shared by our community. This formula wouldn't work in every community. We're in Berkeley, in the Bay Area, and that gives us a certain license to do the kind of work we do. We have taken responsibility for building an audience and bringing that audience along with us. We've taken a lot of responsibility for helping audiences enjoy the work as much as we do. Context is all – and that's my philosophy about everything. The more context we can provide, the richer the audience's experience. Our audiences are intelligent and thoughtful, and we have a lot of respect for them.
Q. How have you changed as a leader in two decades here?
A. I'm so much better as a leader now. I'm much more moderate. I used to be more impatient, and I think I'm a more willing listener. I've learned to be more curious. After years of experience, I've learned more about what's worth worrying about, what's not. I have a higher tolerance for risk, and I trust my instincts – especially now that I'm working on 35 years' worth of experience. I've come to realize in this business how important it is to protect the creative part of the process. I think I have more awe for real creative spirits – and, again, that's something I now feel in my bones in a way I didn't used to. I know how lucky I am to live my life surrounded by people who care so intensely and who are so good at the work they do. They bring such a high level of creativity and skill to their work; that's something I took for granted for a lot of years.
Q. What made you stop taking that for granted?
A. I remember visiting some caves in Northern Spain. After hiking a quarter mile in the dark, I came into a cavern where there's an exquisite painting on the wall which is 30,000 years old. To think about the work required to create this painting in silence, isolation, and darkness was incredible. In a truly visceral way, this gave me a way of understanding the artistic impulse that I hadn't integrated before. Here I was, 30,000 years later, in some kind of communion with an artist who worked so long ago, and that made me terribly respectful. In a job like mine, you have to participate creatively, not just show up. It's all about helping create something that moves people to see things in a different way, opens them to another person's point of view. I'm lucky because I get to participate in that process.
Q. Why are you and Tony Taccone such a good team?
A. I think Tony and I have built a culture within the organization of people looking for ways to say yes. We take great pride in making the impossible seem possible. We both see theatre as an activist pursuit, which doesn't mean it's always political. We want to move people to engage, to take action, to feel things that bring them to a wider worldview. Tony does that with what's on stage; I extend the impact of our Theatre within the community. One aspect of my job is to take what happens within our walls and translate that to the larger community.
Q. What do you love most about Berkeley Rep?
A. This is a theatre that other theatres aspire to be. Our work, at its best, is among the best in the country. And, at its worst, it's still better than most. The values of our organization are so clear and shared by anyone who works here. We've contributed to making this downtown and this city a better place. Those are things that make me proud. We've also built a staff that is skilled and committed – people I'm proud to work with. One thing I love about this theatre is that we have unrestrained ambition. We lean forward as opposed to digging in our heels and getting dragged along.
Q. How has your job changed in 20 years?
A. When I got here, I did a lot more with "producing" the plays – contracts, agents, budgets. When we started building the Roda Theatre, it became clear that my job needed to shift, and I had to hand off a lot to Karen Racanelli, our general manager. That freed me up to think more strategically about the organization, to view it from thousands of feet above as opposed to a few feet.
Q. What makes you successful?
A. I think I have the capacity to look at the big picture and see how it relates to the day to day. I think people think I'm fair and trustworthy. I try to stay ahead, to anticipate. Something I believe is true is that people want to feel engaged with something bigger than themselves. I've drawn on that to help people do their best work. Also, and this is an incontrovertible aspect of my leadership style, I love conflict. I've always thought of that as part of my job, to challenge orthodox thinking. I come from a loud family, and as one of the kids, I had to fight to get a word in. There was always a lot of talking, a lot of arguing. I argue with people, and I tell them, "My people argued with God. Why wouldn't I argue with you?"
Q. Why is being a mentor important to you?
A. When I hit 40 – I'm 56 now – I had a moment when I realized that I had been well mentored. People had taken an interest in me and made a commitment to me. I learned from some amazing managers before me and felt a real yearning to do that for other people, so I've mentored managers and artistic directors at other companies. It made me very motivated to develop our fellowship program. I'm also on the faculty at Yale, and about 10 Yale grad students have had four-month fellowships with me. I take a real interest in the careers and development of all the members of our staff. If you don't invest in people the way other people have invested in you, you're not doing your part.
Q. What has it been like working with Berkeley Rep's board of directors?
A. We've had really excellent leaders on our board, and I consider my work with them part of my continuing education. They are some of the best and brightest in their fields. I have learned and continue to learn so much – about law, real estate, life. I feel like I've had my graduate education just by working with people who are so good at what they do. Their involvement, their passion, has been so important for the Theatre, and many of them have become my dear friends.
Q. You've said you're one of the luckiest people alive. Why?
A. I have a great life – great husband, great kid, great theatre, great colleagues and friends. Life is good.
To see a list of Susan Medak's favorite shows from the last 20 years, visit Berkeley Rep's
blog at .
Berkeley Repertory Theatre has grown from a storefront stage to a national leader in innovative theatre. Known for its core values of imagination and excellence, as well as its educated and adventurous audience, the nonprofit has provided a welcoming home for emerging and established artists since 1968. The Theatre welcomes an annual audience of 180,000, serves 20,000 students, and hosts dozens of community groups, thanks to 1,000 volunteers and more than 400 artists, artisans, and administrators. With two stages, a school, and a Tony Award for Outstanding Regional Theatre, Berkeley Rep is proud to premiere exhilarating new plays. In the last five years alone, the company has helped send five shows to Broadway: American Idiot, Bridge & Tunnel, In the Next Room (or the vibrator play), Passing Strange, and Wishful Drinking.
Susan Medak's 21st year at Berkeley Rep includes a series of stunning scripts and stellar performers. Starting in September, the season features three world premieres: Rinne Groff's compelling Compulsion, a delightful new look at The Composer is Dead, and a tantalizing show written by Artistic Director Tony Taccone that stars legendary actress Rita Moreno. Two West Coast premieres take the stage as well: celebrated collaborators Sarah Ruhl and Les Waters reunite for a refreshing new translation of Anton Chekhov's The Three Sisters while Berkeley Rep welcomes The Great Game: Afghanistan, an unprecedented cycle of 12 short scripts that caused a sensation in London. The upcoming season also introduces local audiences to Lynn Nottage's Pulitzer Prize-winning play Ruined and two audacious new monologues from Mike Daisey: The Last Cargo Cult and The Agony and the Ecstasy of Steve Jobs. Meanwhile, following in the footsteps of Continental Divide, Berkeley Rep's production of Tiny Kushner is headed to London this fall – even as American Idiot continues to rock Broadway.
Send your news, tips and story ideas to press @ starkinsider.com. Don't forget to follow us @StarkInsider and like us on Facebook for the latest in SF Bay Area Theater, Arts, Food, Wine, Tech… and maybe even a blooper or two.
SSC – "Twice as fun / Half as smart."