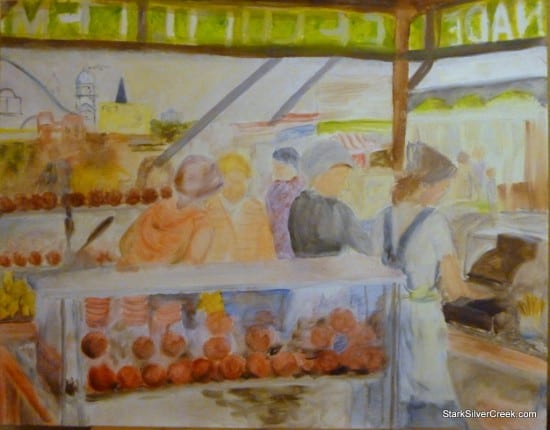 I didn't make it into Saturday art class this week. However, I was able to squeeze in a few painting sessions on late evenings in my home art studio. Painting is a wonderful way to unwind after a hectic, technology-filled day. Add a glass of Cabernet and soon, the stresses of the day melt away.
Okay, I'll admit with a type A personality, it's not always completely relaxing. There are moments I feel rushed to complete my first pass of the painting, covering every square inch of the canvas with a brush stroke. Other times, I would stand back and wonder if I had reached my full potential with my last painting of the Lucie Stern Theatre and now it is all down hill.
At moments like this, a spouse who is full of encouragement comes in handy. Enter Clint. Yes, he has a gift for showering me with reassurances on late evenings when I feel like my latest painting will end in tragedy.
If there is anything painting has taught me, it is that at moments of complete uncertainty, one must stay the course, stick to the plan and rely on whatever pittance of skill and luck you can muster. Many an impossible task has been accomplished by perseverance, optimism and a good partner in crime.