Today, renowned actor Ed Asner announced that he has joined My Gulf Action, an innovative online environmental campaign that gives Americans tools to take lasting, concrete action in response to the Gulf oil spill.
Asner is one of the most acclaimed and renowned actors in television history, having won eight Emmy Awards in a career that includes the iconic role of Lou Grant on "The Mary Tyler Moore Show" and its spin-off, the drama "Lou Grant." Asner has won more Emmy Awards than any other male actor and is the only actor to win Emmys for playing the same character (Lou Grant) in both a comedy and a drama.
Last year, Asner starred as the voice of Carl Fredricksen in the acclaimed animated Pixar film "Up," which won both an Academy Award and a Golden Globe Award for Best Animated Feature.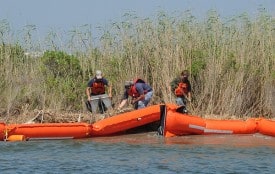 "My Gulf Action is exactly what our nation needs: a way for the American people to act together to reduce our dependence on fossil fuels," Asner said. "The disaster in the Gulf is unprecedented, and it will be an even greater tragedy if we do not learn from it. We must look to ourselves, not just to our elected officials, to take action, and My Gulf Action provides the way."
My Gulf Action was launched on July 8, 2010, by SmartPower, the nation's leading non-profit marketers of clean, renewable energy and energy efficiency. My Gulf Action and its website, www.MyGulfAction.com, allow individuals to reduce their personal use of fossil fuels, calculate the effects of those reductions, and see how their reductions, combined with others from the My Gulf Action community, add up to offset the Gulf oil spill. The website is available for free to anyone, and new information about the campaign is posted daily on Twitter (@MyGulfAction) and Facebook (https://www.facebook.com/pages/My-Gulf-Action/130562830302923). The campaign's goal is to offset every last drop of oil leaking into the Gulf.
My Gulf Action is powered by Climate Culture, a powerful personal energy use reduction platform developed by SmartPower's technology partner, Efficiency 2.0. The campaign is a partnership with several leading environmental groups, including 350, Waterkeeper Alliance and Save Our Gulf, League of Conservation Voters, Clean Water Action, Center for Resource Solutions and Gulf Future, a joint initiative of the Gulf Coast Fund and Gulf Restoration Network.
MyGulfAction.com is adapted from technology used in SmartPower's award-winning "America's Greenest Campus" campaign. By visiting the website, creating a free account and pledging to make simple changes in one's daily energy usage, any individual can join millions of others who are angry and frustrated about the oil spill and ready to reduce our nation's reliance on fossil fuels and offshore drilling. Each commitment to reduce energy use will aggregate with other reductions on the site's homepage, showing how many gallons of leaking oil have been offset by the MyGulfAction.com community.
"It's time for Americans to take action – not just throw up our hands and look to President Obama, the Coast Guard and BP," said Brian F. Keane, President of SmartPower. "With My Gulf Action, everyone can channel our collective frustration into positive change and set our nation and the world on a dramatically sounder course."
The latest estimates, reported by "PBS NewsHour," are that more than 80 million gallons of oil have been spilled into the Gulf of Mexico since BP's Deepwater Horizon well exploded on April 20, with estimates of daily leakage ranging anywhere from 1.4 million to 4.2 million gallons.