Yes, the San Francisco Fringe Festival is back, bringing theatre performances that are rare, raw, raucous, and remarkable. A theatre troupe from the Indian Ocean island of Mauritius with a show about forced migration. Got it. A sexologist offering an evening of onstage phone sex. Check. Walt Whitman's erotic writings at the F-Market Muni Turnaround. You betcha.
The 19th Annual San Francisco Fringe Festival will run for twelve days, September 8-19, 2010, in downtown San Francisco. Forty of the shows, numbering over 250 performances, will be at the EXIT Theatreplex, 156 Eddy Street and around the corner at 277 Taylor Street, all in downtown San Francisco. Three others will be presented in "Non-Traditional Fringe Venues" – the Four Star cinema on Clement Street, Portsmouth Square in Chinatown, and, yes, the F-Market Muni Turnaround in the Castro.
Here's a sampling of what's on tap for the 2010 SF Fringe, with performers from the Bay Area, all over the U.S., Canada, and…Mauritius.
Sarah Abbey (SF) ponders the horrors of the diet industry in The Weight Game. La Tropa (SF) brings real, spooky horror based on Latin American gothic tales in their 32,700 Instants of Horror.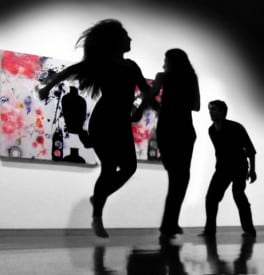 Rupert Wates & Friends (Brooklyn, NY) does Joe's Café, a story in song by real saloon singers. Graffiti Highway (Toronto) is a cabaret performance featuring singer Megan Liley and a musician known as Breakfast.
Returning to the Fringe are favorites OPM (Los Angeles) the popular Asian sketch comedy troupe, this time with OPM's Green Tea Party. SF playwright Joe Besecker is back with a new drama, the very dark comedy Zinnia Rosenblatt. Besecker previously won three "Best of Fringe" awards for drama. Also returning are popular comic actors (and Fringe winners) Karen Ripley and Annie Larson (SF) with The Angina Monologues. Back, too, is former SF performer, now based in Brooklyn, Julia Steele Allen with another multi-media musical tale ranging from Transylvania to Texas, Little Tainted Blood.
Magnum Opus Theatre from Los Angeles presents Star-Crossed Love. Only their own words do justice to the concept:
"Each week, hundreds of untrained, talentless writers from around the world send their unsolicited scripts to Hollywood in the desperate hope that their story will be made into a feature film. Most never even get read. Until now."
Magnum Opus presents scrupulously faithful renditions of these terrible screenplays – live upon the stage. Word for word. We didn't change a thing. Honest!"
Oh, yes, the show from Mauritius – Trup Sapsiway's The Madogs of Diego. The phone sex piece – Phone Whore by Boston's Cameryn Moore. And at the F-Market Turnaround – San Franciscan Ryan Hayes' Boys Together Clinging: the Gay Poetry of Walt Whitman.
San Francisco Fringe Festival tickets range from $7.00 to $10.00 (two shows are free), with a ten-show Frequent Fringer pass at $75 and a five-show pass at $45. The EXIT venues are all within walking distance of Union Square and the Powell Street BART station.