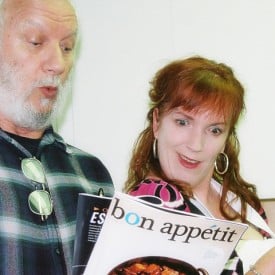 Sonoma Stage Works is currently in rehearsals for the world premiere of Last Hurrah of Horace Packard, by Sonoma playwright Todd Evans. Evans' new heartwarming serio-comedy, opening July 16 and playing through July 31, will be the first theatrical production presented at the newly renovated Andrews Hall, located at the Sonoma Community Center in downtown Sonoma.
Directed by Laureen E. Smith, Last Hurrah of Horace Packard, follows an 80-year old man on a comic adventure when he escapes hospital confinement, evades a police manhunt and worries his wife and family when he sets out to pursue his lifelong dream of running a restaurant.
Off stage, lead actor Dick Ridenour is having an adventure similar to that of his character, Horace Packard. Ridenour is preparing for first stage appearance in 55-years. While Ridenour can boast of plenty of public speaking engagements over the years, the 74-year old Sonoma resident hasn't been in a play since he was a 19-year old attending Grove City College in Pennsylvania.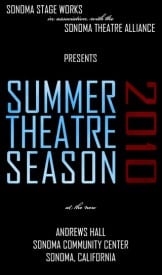 "Acting was something I really enjoyed, but after Grove City College I went on to Yale University and my career and I just never got back on the stage. When it was suggested I audition for the role of Horace Packard, I thought ' Well? Why not?' And here I am," said Ridenour.
"Dick perfectly suits the part of Horace," said actress Siobhan O'Brien, who plays Lila, a restaurant owner. "I felt an instant connection with him at our first rehearsals. Acting comes very naturally to him. And he absolutely could have fooled me with his work in rehearsals. I had no idea he hadn't been involved in theater since his college days."
" Last Hurrah of Horace Packard is a story that tells us that no matter what age, we should continue pursue our dreams. And to keep making new friends and that those new friends can become a part of one's bigger family. That is exactly what Dick is doing. He's fulfilling his dream of being involved in theater again and making new friends with those of us in the cast. It's a very sweet parallel," said O'Brien.
For tickets or more information about Last Hurrah of Horace Packard call 707-996-6003.