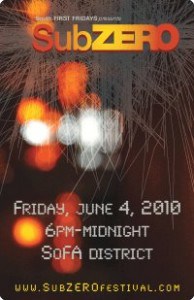 It's not a fridge, but the SubZERO Festival, coming this Friday to downtown San Jose, definitely oozes cool. A colorful and mind-bending mix of tech and art, the event will take place Friday, June 4 in the South First Street area of downtown. Expect lots of interesting art, live music, street vendors and plenty of good-spirited celebration of all things funky creative.
It's another left brain meets right brain mashup that's sure to ignite the imagination. Conceived in 2008 by Anno Domini's Brian Eder and Cherri Lakey, the event has successfully blended street sensibility with the arts. If crowds are any indication, it seems like the event is a hit and continues to grow.
Featured acts include The Bangerz + San Jose Taiko, Ben Henderson & Friends, Corpus Callosum, The Ferocious Few, BRAVE NEW WORLD, and Tsigoti. In addition scores of artists and vendors will be exhibiting their wares. The San Jose Bike party has announced they will hold a Friday Night Lights SPIRAL RIDE that will begin and end at the festival. 14 venues are participating.
Last year SSC was on location to soak in the buzz. We ran into all sorts of techno gadgetry and funky artistic creations. Here are just two of my favorites from the festival. There are just too many to list or cover all in one place! You'll have to go out there and see SubZERO for yourself!