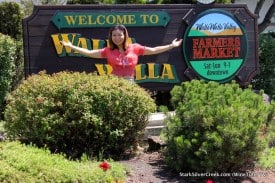 Walla Walla is of Indian origin and means "many waters." It might also mean many wines. The growing wine region, about a 4 hour drive southeast of Seattle, is now home to over 100 wineries. Many will know it as home of the sweet onion. In fact, the official Washington State vegetable is the Walla Wall sweet onion (designated in 2007). Yes, it must be that good!
Join us today from a live Walla Walla broadcast as Loni and Clint taste through some of the wines. Today it's all about whites, and tomorrow they'll be tasting reds. The "show" starts at 4:50pm today (FRIDAY JUNE 25), from downtown Walla Walla. All you need to do is visit starkinsider.com to view the live stream. It's like watching the World Cup… but without the talent, excitement and scoring.
It should prove to be interesting and unpredictable. Unlike a traditional wine tasting, this will be like speed dating. Wine makers will be pouring at break neck speed. And then rotate through quickly. Interviews will happen between rapid-fire swirling, tasting and spitting.
As usual, with anything Internet-related, things can and will go wrong. So who knows what will happen today?
SSC LIVE – WALLA WALLA, WA
starkinsider on livestream.com. Broadcast Live Free