SHN today announced their 2010-2011 Best of Broadway Season which will see some big (literally) names come to San Francisco later this year and next. It all starts with everybody's favorite giant ogre, Shrek, who thunders into town in December just in time for the holiday season with Shrek the Musical, a show the whole family can enjoy. Next, actress Alice Ripley will recreate her Tony Award-winning performance for the National Tour of Next to Normal, about a family trying to take care of themselves and each other.
"What a full cast of characters we have for our audiences next season," enthused Carole Shorenstein Hays as she announced the 2010-2011 Best of Broadway season. "The shows are diverse in style but share inspiring themes. Each show features characters who reach deep inside to find an inner truth and strength. SHN strives to bring uplifting theatrical experiences to our Bay Area theater family and we believe this will be especially true for the 2010-2011 Season."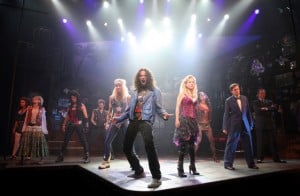 Fans of '80s music will want to dig into Rock of Ages, named after the head banging and rocking Def Leppard hit. Featuring former American Idol and Tony-Award nominee Constantine Maroulis, the show will also feature hits from Journey, Night Ranger, Styx, REO Speedwagon, Pat Benetar, Twisted Sister, Poison, Asia, and Whitesnake and others.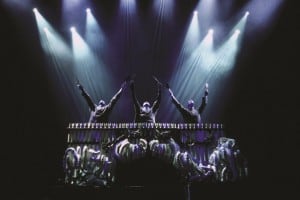 Hard to describe, the spectacle that is Blue Man Group arrives next. The non-spoken musical has been a regular fixture in Las Vegas for years and will bring its high energy and outrageous cacophony of sights, sounds, beats, and, yes, plenty of blue paint.
Rounding out the Best of Broadway season is Billy Elliott. Set in a small town, the story follows Billy as he stumbles out of the boxing ring and into a ballet class, discovering a passion that takes him by surprise, and takes his whole family on an incredible uplifting adventure. The musical won 10 out of its 15 Tony Award nominations, including Best Musical and was named TIME Magazine's "Best Musical of the Decade!" The shows will be staged at San Francisco's Orpheum, Curran and Golden Gate Theatres.
The Cast of Characters starring in the
2010-2011 Best of Broadway Season:

SHREK
NEXT TO NORMAL
ROCK OF AGES
BLUE MAN GROUP
BILLY ELLIOT

SHREK THE MUSICAL

Book and Lyrics David Lindsay-Abaire
Music by Jeanine Tesori
Directed by Jason Moore and Rob Ashford
Choreography by Josh Prince
Scenic and Costume Design by Tim Hatley
Lighting Design by Hugh Vanstone
Sound Design by Peter Hylenski
Music Supervision by Tim Weil
Music Direction by Andy Grobengieser
Orchestrations by Danny Troob and John Clancy
Wig and Hair Design by David Bryan Brown
Makeup Design by Naomi Donne

December 1, 2010 – January 2, 2011
Orpheum Theatre

SHREK THE MUSICAL, based on the Oscar®-winning DreamWorks film that started it all, brings the hilarious story of everyone's favorite ogre to dazzling new life on the stage.

In a faraway kingdom turned upside down, things get ugly when an unseemly ogre – not a handsome prince – shows up to rescue a feisty princess. Throw in a donkey who won't shut up, a villain with a SHORT temper, a cookie with an attitude and over a dozen other fairy tale misfits, and you've got the kind of mess that calls for a real hero. Luckily, there's one on hand… and his name is Shrek.

Featuring a terrific score of 19 all-new songs, big laughs, great dancing and breathtaking scenery, SHREK THE MUSICAL is part romance, part twisted fairy tale and all irreverent fun for everyone.

NEXT TO NORMAL

Music by Tom Kitt
Book and Lyrics by Brian Yorkey
Directed by Michael Greif
Musical Staging by Sergio Trujillo
Set Design by Mark Wendland
Costume Design by Jeff Mahshie
Lighting Design by Kevin Adams
Sound Design by Brian Ronan
Orchestrations by Michael Starobin and Tom Kitt
Vocal Arrangements by Annmarie Milazzo

January 25 – February 20, 2011
Curran Theatre

From the director of Rent comes NEXT TO NORMAL, an emotional powerhouse of a musical with a thrilling contemporary score about a family trying to take care of themselves and each other. NEXT TO NORMAL, the ground-breaking new musical, is the winner of the 2010 Pulitzer Prize for Drama and three Tony Awards including Best Score and Best Actress in a Musical. Tony Award-winning actress Alice Ripley will recreate her Tony Award-winning performance for the National Tour.

NEXT TO NORMAL, has been called "one of the year's ten best shows" by major critics around the country. When the show opened, The New York Times called NEXT TO NORMAL "a brave, breathtaking musical. A work of muscular grace and power. It is much more than a feel-good musical; it is a feel-everything musical." Rolling Stone raved, "It is the best musical of the season – by a mile. It'll pin you to your seat."

ROCK OF AGES

Book by Chris D'Arienzo
Music Supervision, Orchestrations and Arrangements by Ethan Popp
Music Coordination by John Miller
Original Arrangements by David Gibbs
Directed by Kristin Hanggi
Choreography by Kelly Devine
Set Design by Beowulf Boritt
Costume Design by Gregory Gale
Lighting Design by Jason Lyons
Sound Design by Peter Hylenski
Projection Design by Zachary Borovay
Hair and Wig Design by Tom Watson
Makeup Design by Angelina Avallone

March 8 – April 3, 2011
Curran Theatre

In 1987 on the Sunset Strip, a small town girl met a big city rocker and in LA's most famous rock club, they fell in love to the greatest songs of the '80s. ROCK OF AGES, the five time 2009 Tony Award® nominee, is an arena-rock love story about "dreaming big," " playing loud" and "partying on," told through the mind-blowing, face-melting hits of JOURNEY, NIGHT RANGER, STYX, REO SPEEDWAGON, PAT BENATAR, TWISTED SISTER, POISON, ASIA, WHITESNAKE and many more.

Former "American Idol" and Tony Award-nominee Constantine Maroulis will reprise his Broadway leading role for the National Tour.

BLUE MAN GROUP

Created and Written by Matt Goldman, Phil Stanton, Chris Wink
Associate Directed by Marcus Miller
Production Design by Joel Moritz
Video Design by Caryl Glaab
Costume Design by Chase Tyler
Sound Design by Matt Koenig
Music Supervision by Todd Perlmutter

May 24 – June 19, 2011
Golden Gate Theatre

BLUE MAN GROUP is best known for their wildly popular theatrical shows and concerts, which combine comedy, music, and technology to produce a totally unique form of entertainment. The New York Times heralds the show as "One of the most delightful performance pieces ever staged." E! Entertainment News exclaims, "BLUE MAN GROUP is what every live performance aspires to be." Although it is impossible to describe, people of all ages agree that BLUE MAN GROUP is an intensely exciting and wildly outrageous event that leaves the entire audience in a blissful, euphoric state.

With no spoken language, BLUE MAN GROUP can be appreciated by people of all cultures and languages. This Fall, BLUE MAN GROUP takes to the road on its first U.S. theatrical tour. This unique experience is a form of entertainment like nothing else; guaranteed to be an outing you will never forget!

BILLY ELLIOT

Directed by Stephen Daldry
Book and Lyrics by Lee Hall
Music by Sir Elton John
Choreography by Peter Darling
Associate Direction by Julian Webber
Set Design by Ian MacNeil
Musical Supervision and Orchestrations by Martin Koch
Costume Design by Nicky Gillibrand
Lighting Design by Rick Fisher
Sound Design by Paul Arditti

Begins September 13, 2011
Orpheum Theatre