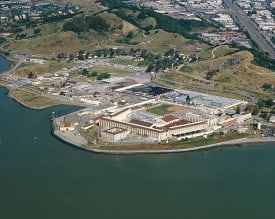 On Monday, June 28 at 5:30 p.m., inmates at San Quentin State Prison will have the rare opportunity to hear some of the most beautiful, poetic, romantic words ever written.
Ten inmates, under the direction of Marin Shakespeare Company's Suraya Keating, will perform the Shakespearean tragedy Romeo and Juliet, a story about feuding families and young love. The actors will be joined by Keating as the Nurse, Stephanie Ahlburg as Lady Capulet, and Lesley Currier as the teenage Juliet.
The Marin Shakespeare Company, which performs at Dominican University's Forest Meadows Amphitheatre each summer, added the Shakespeare program at San Quentin to their array of education programs seven years ago. The teachers who have worked with the inmates have found the men eager to learn. Keating, who also teaches for Marin Shakespeare Company in public schools and summer Shakespeare camps, has a background in art therapy and experience working with incarcerated youth.
"I welcome the opportunity to lead the actors into a deeper exploration of Shakespeare's characters and stories. The men are hungry for Shakespeare," Keating said.
"Shakespeare actors are role models within the San Quentin community, demonstrating that even behind bars men can continue to set goals, learn new skills, and become better human beings…Shakespeare at San Quentin is just one more way Marin Shakespeare Company is bringing Shakespeare into the lives of a variety of people", Marin Shakespeare's Managing Director Lesley Currier added.