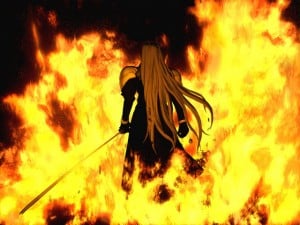 The San Francisco Symphony announced they will perform two different concerts of music from Final Fantasy, the popular role-playing video game, including the North American premieres of music from Final Fantasy composers Nobuo Uematsu and Masashi Hamauzu. Grammy Award-winning conductor and music director Arnie Roth conducts the Orchestra in Davies Symphony Hall concerts Thursday, July 15 and Friday, July 16 at 8 p.m. While the Orchestra plays, state-of-the-art images from Final Fantasy game scenes will be projected onto the big screen.
The Orchestra will perform for the first time in North America a medley of Hamauzu's music from the latest best-selling Final Fantasy XIII game and Nobuo Uematsu's Final Fantasy IX: Prima Vista. The Orchestra will also perform some of Uematsu's most popular pieces from earlier, classic versions of the game, including, on Thursday, July 15 only, the Main Theme from Final Fantasy VII, a medley from Final Fantasy I-III, To Zanarkand from Final Fantasy X, Ronfaure from Final Fantasy XI, and the 12-minute "opera" "Maria and Draco" from Final Fantasy VI, featuring soprano Christine Abraham, tenor Brian Jagde, and baritone Brian Leerhuber.
On Friday, July 16 only, the Orchestra will perform Sutekidane from Final Fantasy X, Dancing Mad from Final Fantasy VI, Kiss Me Goodbye from Final Fantasy XII, Vamo' alla Flamenco from Final Fantasy IX, and J-E-N-O-V-A from Final Fantasy VII, as part of a full program of Final Fantasy music. Vocalist Susan Calloway, who sings on the just-released Distant Worlds II: more music from Final Fantasy recording, appears with the Orchestra both nights, singing Memoro de la Stono–Distant Worlds from Final Fantasy XI and Kiss Me Goodbye from Final Fantasy XII.
The San Francisco concerts are the first of only four stops the Final Fantasy concert tour is making in the United States. These concerts mark the first time Masashi Hamauzu's Final Fantasy music has been performed in North America. Last summer, in a performance that was sold out weeks in advance, Roth led the San Francisco Symphony in a Davies Symphony Hall concert of Final Fantasy music.