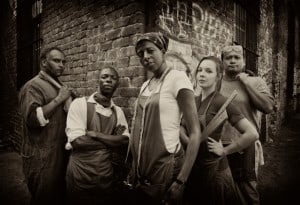 The Tony Award-winning San Francisco Mime Troupe opens its 51st season with Posibilidad, or Death of the Worker. Wilma Bonet (Too Big to Fail) directs Velina Brown (Too Big to Fail, Veronique of the Mounties, Red State), Lisa Hori-Garcia (Too Big to Fail, GodFellas, Red State), Brian Rivera (Doing Good), and Michael Gene Sullivan (GodFellas, Making a Killing), along with Rotimi Agbabiaka and Maggie Mason, who make their San Francisco Mime Troupe debuts, in this modern song and tango about politics in the workplace.
A small U.S. factory is shutting down. All of the workers are losing their jobs, and to add insult to injury, they have also lost their last two weeks of pay and retirement funds, which were raided over the years to pay stock dividends. They are despondent, but feel there is nothing they can do, so they put in their last shift and raise a glass to their years together. As they the Factory for the last time, one of the older Workers gets snagged on a machine; interpreting this as an act of defiance, The Boss calls security. The situation escalates and before anyone has a chance to think, the Workers have accidentally occupied the Factory!
During the negotiation process, The Boss tries intimidation, patriotism, and Red Scare tactics, while the Workers just try to figure out what the heck they're doing. Some say wreck the place. Tea Baggers say it's all the government's fault. Others blame the Union. One Worker, an Argentine ex-pat, says they should consider running the Factory themselves and is immediately labeled a Commie. At night, as the occupying Workers entertain themselves with songs and stories, the Argentine comes forward again and tells the tale of a similar strike back home. As more of the Argentine's story unfolds, the parallel plights of the American and Argentine Workers play out side by side. While the Americans struggle to keep their factory occupation from becoming politicized, the Argentine strike is deeply political. In the end, both the American and Argentine Workers are victorious, but which resolution will ultimately keep the power in the Workers' hands?
Founded in 1959, the San Francisco Mime Troupe creates and produces socially relevant theater; their work is political satire and anything but silent. Winner of three OBIE awards and a Tony Award for Excellence in Regional Theatre, the San Francisco Mime Troupe, about which The New York Times stated, "Anyone concerned about the state of global politics — and about the state of political humor — should listen to the Mime Troupe's message," creates plays that make sense out of the headlines, close-up stories that make audiences feel the impact of political events on their personal lives.