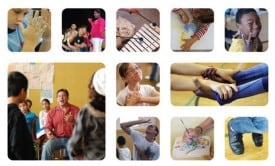 San Francisco Arts Education Project (SFArtsED) is celebrating its 10th year of the musical theatre troupe for young people with a staged concert adaptation of Rodgers and Hammerstein's classic musical Carousel, on Monday, July 19 at 8 p.m. at the San Francisco Conservatory of Music (50 Oak Street, San Francisco). Tickets for Carousel range in price from $25 – $150 and are on sale now at the City Box Office (401 Van Ness Ave., San Francisco), by phone at 415-392-4400 and on the web at www.cityboxoffice.com (click on San Francisco).
Carousel is a musical by Richard Rodgers (music) and Oscar Hammerstein II (book and lyrics) that was adapted from Ferenc Molnár's 1909 play Liliom, transplanting the Budapest setting of Molnár's play to a New England fishing village. Carousel was innovative for its time, being one of the first musicals to contain a tragic plot. Carousel features well known and loved songs including, "If I Loved You ", "June is Bustin' Out All Over," and "You'll Never Walk Alone." Carousel, named the "Best Musical of the 20th Century" by Time Magazine, has had numerous revivals both on Broadway and in London since its original 1945 Broadway performance and has been adapted into a movie and television special.
Carousel is directed by Danny Duncan with musical direction by Conductor Henry Shin. Choreographers for the production include Natalie Greene and Nicola Bosco. SFArtsED Players alumni will join current members of the troupe and students in the organization's performing arts summer camp. The production is in collaboration with the UC Berkeley Summer Symphony, whose 55 members will share the stage with the 60 young performers.
Proceeds from the evening will support scholarships for the SFArtsED summer camps and after school programs for families in need.