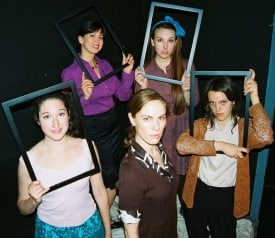 The Ross Valley Players kicks off its new season with David Mamet's political comedy November, opening on Sept. 17. James Dunn directs this play about U.S. President Charles "Chucky" Smith nearing the end of his first term and dealing with the unfavorable prospects that he will be elected for a second term.
The season continues with the stage adaptation of Jane Austen's Pride and Prejudice, opening Nov. 12; the Pulitzer Prize and Tony Award-winning mystery Doubt, opening Jan. 14; the musical Quilters, opening March 18; David Lindsay-Abaire's Pulitzer Prize-winning Rabbit Hole, opening May 13; and the British comedy Table Manners, opening July 15.
The Ross Valley Players will also present a holiday variety show in December and Ross Alternative Works festivals in February and August.
The Ross Valley Players' Barn Theatre is located at the Marin Art & Garden Center in Ross. More information: www.rossvalleyplayers.com.
Ross Valley Players' 2010-2011 Season:

Sept. 17 to Oct. 17, 2010
November
By David Mamet
Directed by James Dunn

"November," a political comedy by David Mamet, will be directed by James Dunn. The play is about U.S. President Charles "Chucky" Smith nearing the end of his first term and dealing with the unfavorable prospects that he will be elected for a second term. "November" is about incompetence, greed, lobbyists and re-election. President Charles "Chucky" Smith is nearing the end of his first term, and prospects for a second look poor. His campaign manager has gone on vacation, his wife is already planning the décor in the memorial library and his speech writer is too sick to come to work. Can he save his chances by pardoning two turkeys at Thanksgiving? A terrific comedy to kick off the new RVP season..

Nov.12 to Dec. 12, 2010
Pride and Prejudice
By Jane Austen, adapted by Jon Jory
Directed by Phoebe Moyer

All of the wit and romance of Jane Austen's classic 1813 novel is brought to the stage in this engaging adaptation by Jon Jory. The independent and progressive Elizabeth Bennet and her four sisters are searching and hoping for love while their society conscious mother is fretting over the perfect, suitable marriage match for each of her daughters.

Dec. 16 to Dec. 19, 2010
Holiday Family Special – Variety event

Jan. 14 to Feb. 13, 2011
Doubt, A Parable
By John Patrick Shanley
Directed by Cris Cassell

Set at a Catholic school in the Bronx in 1964 Sister Aloysius, the school principal, takes matters into her own hands when she suspects the young Father Flynn of sexual misconduct with a male student in this gripping mystery. Winner of the 2005 Pulitzer Prize and Tony Award.

March 18 to April 17, 2011
Quilters
Book by Molly Newman and Barbara Damashek, lyrics and music by Barbara Damashek
Based on the book "The Quilters:Women and Domestic Art" by Patricia Cooper and Norma Bradley Allen
Directed by Linda Dunn

The construction of a quilt is the framework for this musical featuring poignant tales about the struggles and triumphs of American pioneer women, with each block of the quilt representing personal stories including girlhood, marriage, childbirth and spinsterhood.

May 13 to June 12, 2011
Rabbit Hole
By David Lindsay-Abaire
Directed by Mary Ann Rodgers

This Pulitzer Prize-winning play (2007) tells the story of a couple trying to recover from the accidental death of their four-year-old son. Occasionally funny and always heartrending, "The Rabbit Hole" explores how grief effects us as individuals and families.

July 15 to Aug. 14, 2011
Table Manners
By Alan Ayckbourn
Directed by Robert Wilson

This hilarious British comedy takes you to the dining room of a family mansion where an extended family of two sisters, a brother and their significant others dish-up emotional mayhem at every meal. Sarcasm, tasty barbs and zingers are on the menu in this delicious comedy which is the first of three plays in Alan Ayckbourn's trilogy entitled "The Norman Conquests."