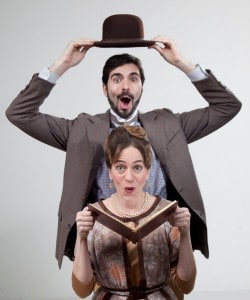 Marin Shakespeare Company announced that they will kick of their season in July with Tom Stoppard's Travesties. The 1976 Tony Award-winner for Best Play is an eclectic recipe of fact and farce spoofing Oscar Wilde's The Importance of Being Earnest and combines Wildean wit with the absurdity and profundity of Dadaist Tristan Tzara, Vladimir Lenin and James Joyce. From the release: "Tom Stoppard whips up a dazzlingly clever, tasty dish about art and society that is funny, thought provoking and entertaining. Featuring William Elsman and Alexandra Matthew and directed by Robert Currier."
The professional, award-winning Marin Shakespeare Company presents its outdoor, summer festival of three plays presented under the summer stars in its outdoor venue, Dominican University's Forest Meadows Amphitheatre in San Rafael, Calif. The MSC summer festival features a variety of special events and discounted ticket options including "Pay What You Will" preview performances.
Next up is The Taming of the Shrew By William Shakespeare. Shakespeare's feistiest lovers cast off in this swashbuckling version of the classic.  This mad, romantic, seafaring romp will appeal to all ages with its "Pirates of the Caribbean" setting. Featuring Cat Thompson as Kate and Darren Bridgett as Petruchio.
The season concludes with a follow-up to last summer's production of Julius Caesar,"as Marin Shakespeare Company continues the Roman saga with Antony and Cleopatra. Now an aging soldier and world leader, Antony is enthralled by the legendary Egyptian queen's charms in this sweeping, passionate love story about a powerful man derailed by the enchantment of an extraordinary woman. Featuring Marcia Pizzo* as Cleopatra and Marvin Green as Mark Antony.