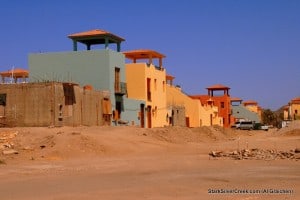 The "global solution" activity has created a lot of finished homes in Agua Viva. There is still continuing work going on and day-by-day more color is seen. While I've not been involved with the project I do walk the area every few days and take some photos. As I've been gone for a month or so I was pleasantly surprised to see finish work being done on a couple of the Casa Altas in the middle of AV.
I headed to town for lunch at Café Lolita. Paco and Paola have been closed for a bit doing some improvements in the kitchen and taking some well-deserved time off. They reopened today and had a pretty good turnout. I stopped by about 12:30 and there were four tables of people.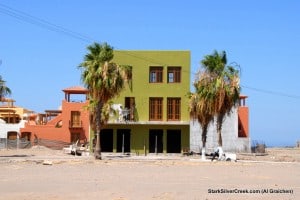 As I'd driven down and hadn't stopped at the border (oops) I needed to get my FMM stamped so I headed to the airport about the time the flight was due to arrive. The Immigration officer was quite efficient. I was in and out in less than 5 minutes. I really should start using the office in town but the airport is so convenient and the office is typically empty just before the plane arrives. The new form is much easier to fill in and use. I just hope the FM3 renewal process is as easy as I'll need to get that done in September.
The weather today was a bit on the cool side. I actually considered long pants and shirt as I took Mandy out for her evening walk. The mosquitos were out again near the golf course so the discussions between Associa, Homex and Fonatur regarding mosquito spraying of the estuaries and golf course water "hazards" will be important. Up until today I'd not even seen a mosquito so I guess I've been lucky.